A desi wedding is incomplete without dance. YouTube is filled with videos of couples doing something different at their wedding. They all plan on giving their guests an unforgettable experience with a unique entrance. But this Pakistani bride made a wedding entrance with her epic dance moves!
From choosing the playlist to practice dances, fighting over songs, and arguing about the moves and steps fitting the song, any shaadi without dances is not only boring but certainly misses the essence of what makes a desi shaadi complete.

Previously, we have seen couples making an entrance on everything from the traditional palanquins to scooters and bicycles. Some were even seen hiring rickshaws to make a unique entrance at their wedding. But this Pakistani bride made her wedding entrance alone with her dance on the Bollywood song 'Saiyaan Superstar'.
Take a look at it!
Just look at how gorgeous she looks! Well, certainly, happy brides are the pretties.
A couple from Faisalabad previously outdid all the grand wedding entrance ideas. Talk about going extra, the couple literally got a special rectangular pool made for their entrance. Actually, we can't seem to quite know what to make of the exaggerated new notion. Their boat dreamily drifted into the marquee and for a moment everyone held their breaths in awe.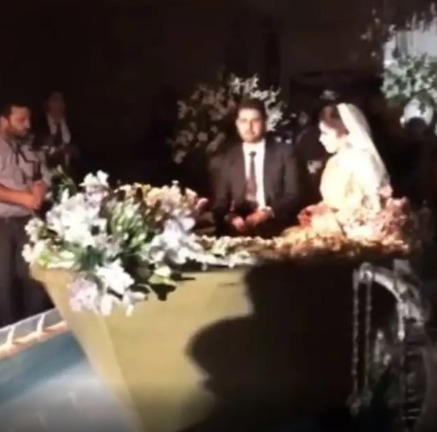 Not only was the entrance grand, but the décor was also absolutely fancy. More so, everything from the centerpieces to the floral arrangements was downright flawless. In fact, the venue looked like something exactly out of a fairy tale. But wait.. the extravaganza does not end here. Wait till you lay eyes on their wedding cake. 
Nothing can beat the excitement of bringing the new bride home. Decorating the house, and whatnot, we all want the best to greet the new bride when she comes to her new home for the first time.
Have you seen a grand and showy entrance for the bride into her new home? A bride was recently welcomed with a lavish house entrance. Fireworks lit up the sky for the new member of the family with confetti raining on her and the groom. This specific grand entrance that we are talking about will certainly make your jaws drop!
What do you think of this story? Let us know in the comments section below.