Disclaimer*: The articles shared under 'Your Voice' section are sent to us by contributors and we neither confirm nor deny the authenticity of any facts stated below. Parhlo will not be liable for any false, inaccurate, inappropriate or incomplete information presented on the website. Read our disclaimer.
Famous Indian author Shobhaa De recently made a trip to Lahore, Pakistan for attending the 6th edition of Lahore Literary Festival (LLF 2018) which took place on 24th and 25th Feb. This wasn't the first time she was coming to Lahore or Pakistan in general for attending LLF or something relevant to it and she has been to Pakistan multiple times in past too.
But Shobhaa's recent trip was indeed a special one and the person who made her this trip special wasn't even someone she knew prior to this trip and that person is a Pakistani blogger named Sarmad Iqbal.
Blogger Sarmad Iqbal made Shobhaa's recent trip an unforgettable one by taking her by surprise by greeting her and conversing a bit with her in her native Marathi language during one of her sessions on Day 2 of LLF 2018. Shobhaa wasn't expecting this kind of response from a Pakistani Lahorite ladka and when Sarmad stood up at the end of her session to greet and ask her question she must have been expecting a usual "Salamu-Alaikum" and "How are you" or just "Hello" or "Good afternoon"but Sarmad did the exact opposite.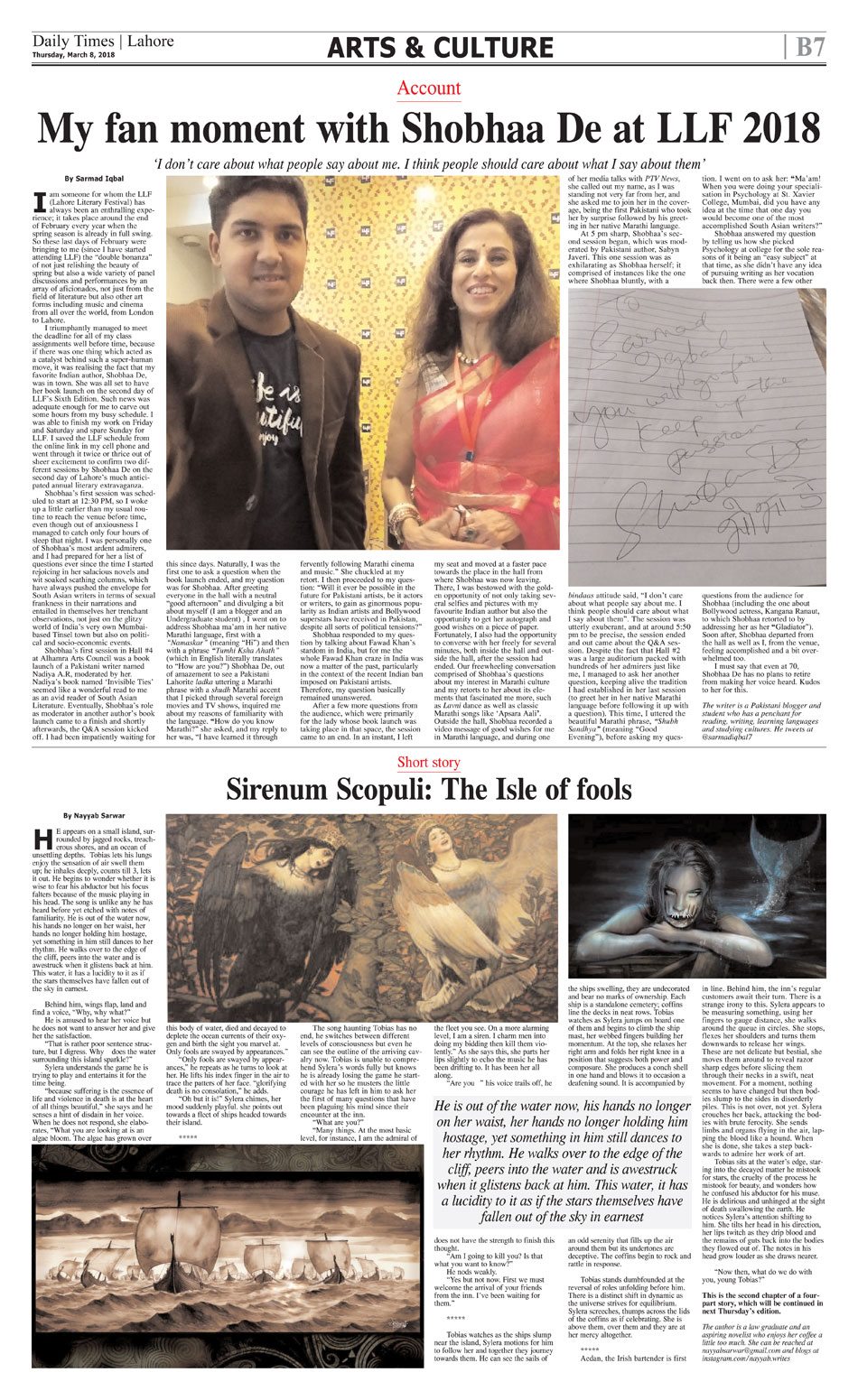 According to the details divulged by Sarmad in his recently published column titled "My fan moment with Shobhaa De at LLF 2018" for Pakistani newspaper Daily Times, Sarmad first met Shobhaa in her first session where she was acting as a moderator for the book launch of Pakistani author Nadiya A.R. From that first session, everything started as Sarmad who claims to be an "ardent admirer" of Shobhaa was impatiently waiting for the Q and A session at the end of Shobhaa's first session and when the session ended it was him who got the first opportunity to ask any question.
As he mentioned in his column, Sarmad "went on to address Shobhaa ma'am in her native Marathi language, first with a 'Namaskar' and then with a phrase "Tumhi Ksha Ahath" (which in English literally translates to 'How are you?')". He further writes "Shobhaa De, out of amazement to see a Pakistani Lahorite ladka uttering a Marathi phrase with a shudh Marathi accent that I picked through several foreign movies and TV shows, inquired me about my reasons of familiarity with the language" and he continues narrating his fan moment with Shobhaa by telling us how she asked him "How do you know Marathi" and Sarmad's rejoinder to her was "I have learned it through fervently following Marathi cinema and music."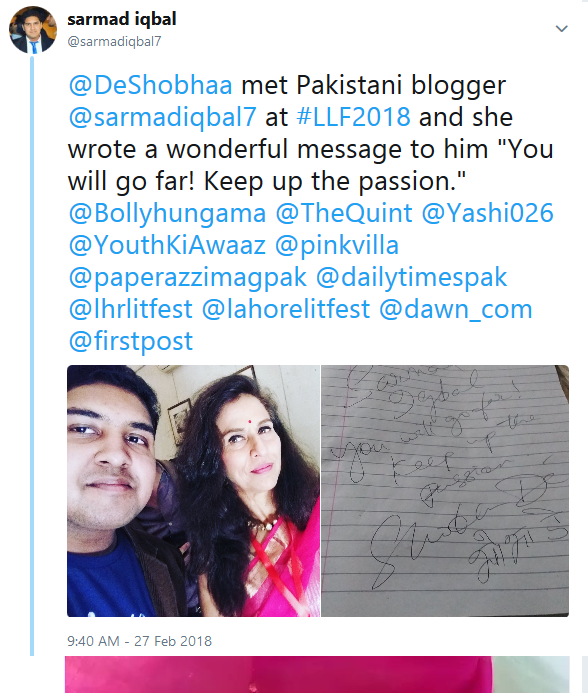 Then Sarmad "proceeded" to asking a very significant question which we all would have wished to ask from anyone currently connected with Bollywood and Indian Cinema and that question was "Will it ever be possible in the future for Pakistani artists, be it actors or writers, to gain as ginormous popularity as Indian artists and Bollywood superstars have received in Pakistan despite all sorts of political tensions?".
According to Sarmad's column, his question remained unanswered as Shobhaa responded to his question "by talking about Fawad Khan's stardom in India" and for him "the whole Fawad Khan craze in India" is a "matter of the past" now.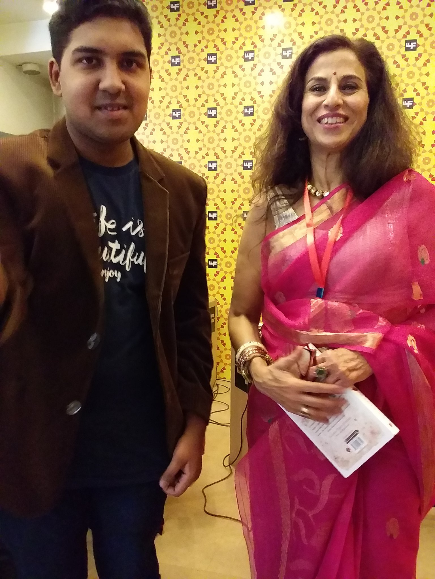 Then comes the part where Shobhaa actually exhibited her astonishment at encountering her unique Pakistani admirer who is also a Marathi lover in a country where many people may not even have any idea about what Marathi is and where exactly it's being spoken. Shobhaa soon after her session ended, not just had the usual selfie-taking or autograph signing with Sarmad but she also engaged with him in (as Sarmad has mentioned in his column) a "free-wheeling conversation" about his interest in everything related to "Marathi culture" and then she also proceeded to recording "a video message of good wishes" for Sarmad "in Marathi language".
And Sarmad's blissful fan moment didn't finish there and Shobhaa even also had a joint media talk with him for PTV News and Shobhaa (as Sarmad has told us in his column ) even called him by his name for talking along with her to PTV News and this all happened just after few minutes of acquaintance. Shobhaa had also written a wonderful message to Sarmad on the same piece of paper which was autographed by her and her message was "Sarmad Iqbal!
You will go far! Keep up the passion". Sarmad also posted a picture on his Twitter account of the autographed paper on which Shobhaa wrote such a wonderful message to him. What a superb fan moment Sarmad had indeed with his favorite celeb from India! I wish we all do get such blissful fan moments in our life with our favorite celebs.
Sarmad's pictures and his YouTube video with Shobhaa De have gone viral in just a few days through his Twitter account where I'm also following him and you guys can also follow him for more updates on his articles, blogs as well as on his meet-ups and fan moments with various celebs both local ones as well as international ones.
According to his official twitter handle as well as his YouTube channel, Sarmad Iqbal is a polyglot who apart from his native Urdu and English is also proficient in languages like Turkish and Spanish and is also these days studying Marathi on his own.
Read Also: Pakistani Blogger Sarmad Iqbal Has Won The Hearts Of Everyone In Maharashtra