Pakistan is a highly patriarchal society, and harassment has been a prevailing issue for a long time. Be it street-calling or workplace harassment, the stigma is prevalent. Ideally, every woman could live a peaceful life without a care in the world. But if we talk realistically, the prevalent harassment makes the idea seem too far fetched. Here is yet another harassment story.
A woman took it to a Facebook group 'Stand Up For Pakistan', and exposed a harasser. According to her post, she seems to be residing in the US. Recently, she filed an application on the Meezan Roshan Digital account for bank opening. This was done a day before yesterday.
And yesterday, in the morning according to the US time, she received a miss call and several messages from a guy. She was immediately doubtful about Meezan Bank because as per her, she does not normally get such messages and calls from any Pakistani phone number.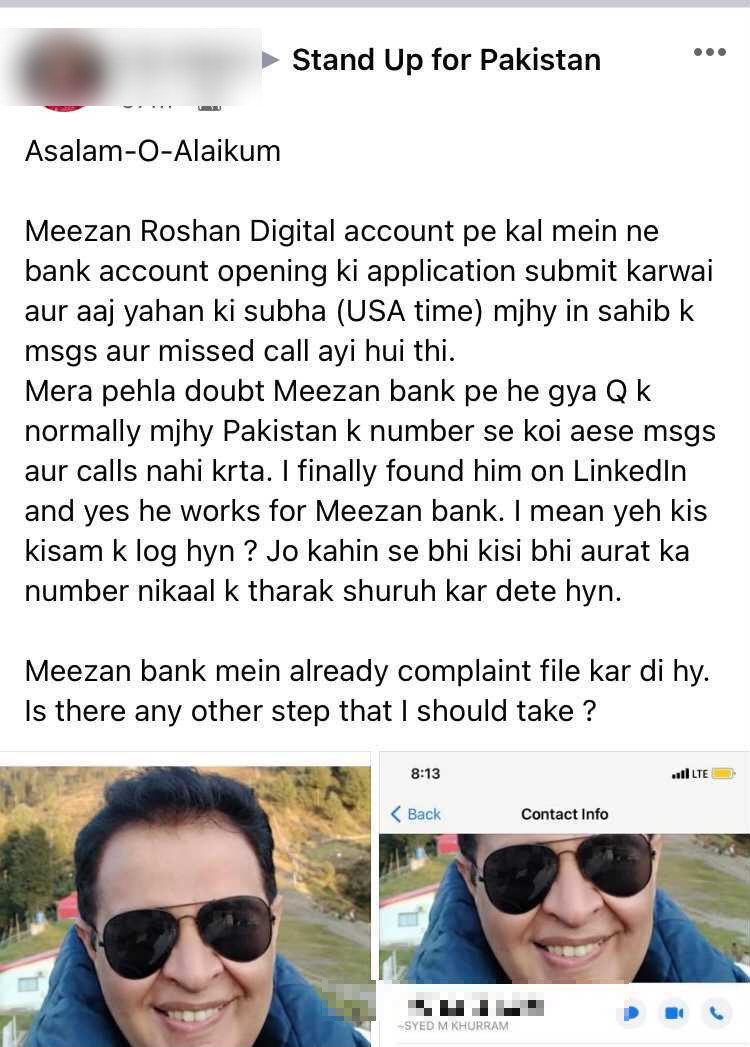 While searching him on social media, the woman finally found him on LinkedIn. Her earlier doubt then came to be true as she discovered that the man works for Meezan Bank. Moreover, she filed a complaint at the bank.
In addition to this, the woman also shared screenshots of his messages. Around 12 am (US time) which is 10 pm in Pakistan, the guy messaged her and asked if she is awake. Upon her asking who it is, he told her his name and expressed that he 'wishes' to be her friend.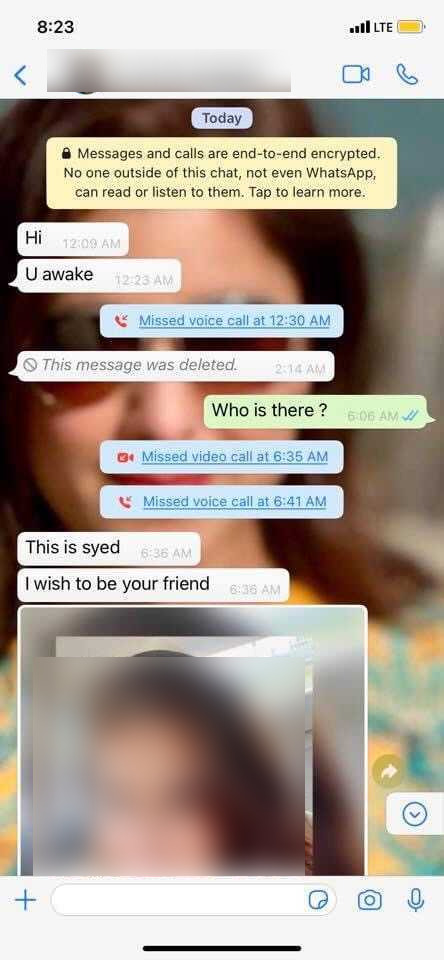 Who video calls a stranger?
In fact, he even sent a picture of her, and after praising her said he could 'not stop himself' to become a friend. Not only that but he did his homework, and stalked her pretty well before approaching.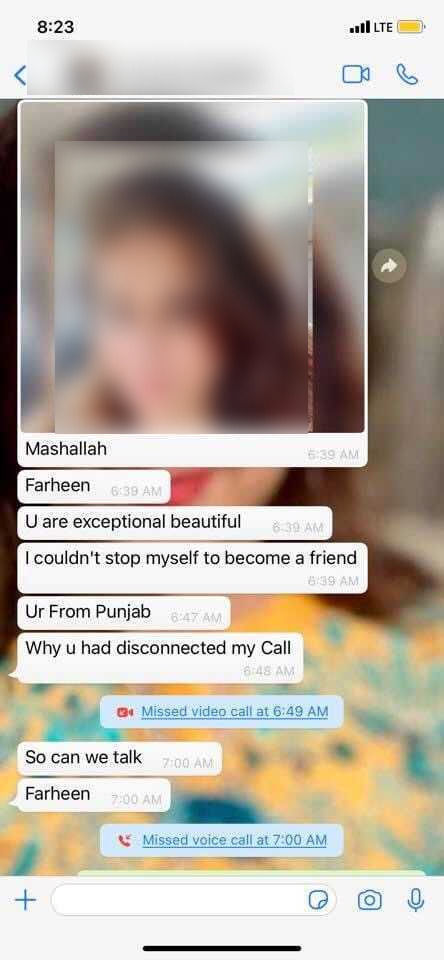 Even though she stopped replying, he kept video calling, and voice calling her. Later, before blocking him, she told him that she found him on LinkedIn, and would file a complaint against him in Meezan bank.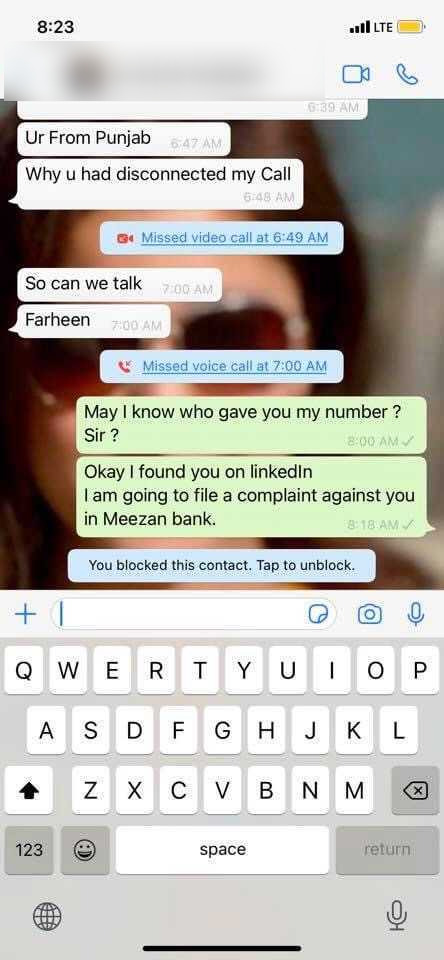 Can you even imagine…? Harassing a woman from the US while sitting in Pakistan. The level that these men can stoop to has become surprisingly unsurprising now.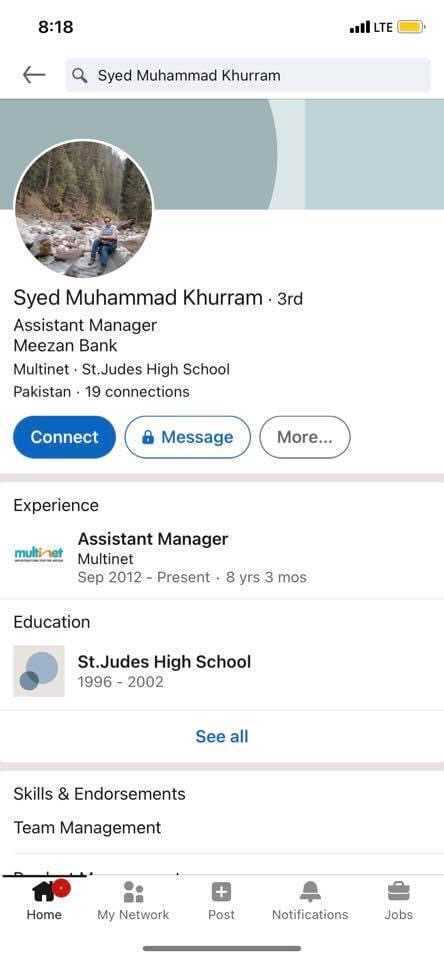 When it comes to regulating the internet, we need to revisit our priorities. Imposing vague ideas of morality on people will not solve the much bigger problems of addressing never-ending violence against women in the country that ironically associates its honor with the same women it abuses and kills every day.
Cyber harassment is becoming way too common these days. It is mainly because people think it is easier to get away online. The cyber laws are not as effective as they were intended to be.
And it is not about drafting and passing the law but implementing them. Unless the laws are implemented, they will amount to nothing more than lip service. Do give read to the 7 things that you need to know about the cybercrime bill.
What do you think of this story? Let us know in the comments section below.