After Aamir Liaquat's insensitive comment, many people are bashing the popular host for being insensitive and lacking empathy towards the dead people.
Not only Indians, but Pakistani people also feel that people like Liaquat create a bad impression about Pakistan on a global map. Where people were mourning the death of Bollywood legends Irrfan Khan and Rishi Kapoor, such comment by Liaquat didn't come in a good taste.
Though he has now apologized for this act and we do respect that. But, this is not the first time that his joke has hurt someone's feelings. He constantly remains in headlines for his comments on different personalities.
Many Pakistani celebrities including Aima Baig, Anoushey Ashraf, and Usman Mukhtar have called out Liaquat for his behavior. Actor Adnan Siddiqui who was also the part of the same conversation also regretted being on the show with him.
This makes me so sad. What must the world think of Pakistani's if Amir Liaquat behaves this way and gets away with it? How can you respect a man who can't even respect the dead? #AamirLiaquat https://t.co/7bqPAz51fz

— Anoushey Ashraf (@Anoushey_a) May 2, 2020
https://www.instagram.com/p/B_si0uXpaRn/?utm_source=ig_web_copy_link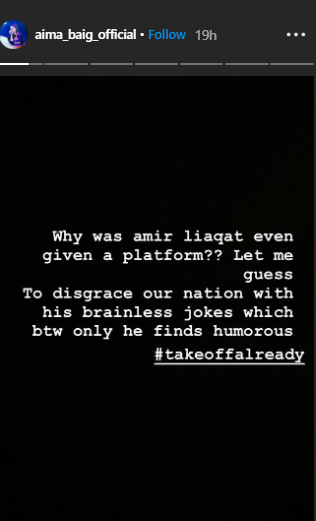 Amidst these crisis times, Pakistani Ramadan game shows can be good distractions for a little peace of mind. Nonetheless, they can be the absolute opposite too especially, when hosts like Liaquat make people embarrass with their lame acts and jokes.
What do you think about the story? Tell us in the comment section below.