Pakistan reported a big jump in new coronavirus infections on Thursday, driven by a resurgence in cases in their richest states. Pakistan says the UK variant of the virus found in the country could also be a factor.
In Pakistan, 3,495 people tested positive in the past 24 hours, the most daily infections since early December. Total cases rose past 615,000. Deaths rose by 61 to 13,717.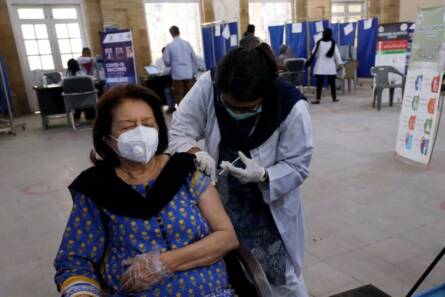 Most of the new cases came from Pakistan's largest and richest province, Punjab.
Asad Umar warns stricter lockdowns if SOPs not followed
Asad Umar said on Twitter that hospital beds were filling fast. He warned people of stricter curbs soon.
"The new strain spreads faster and is more deadly," he said on Twitter, referring to the UK variant.
Pakistan has reversed a decision which had allowed uncapped prices for COVID-19 vaccines imported by private firms, Health Minister Faisal Sultan said on Thursday.
The development coincided with arrival of first shipment of privately-imported Russian Sputnik-V vaccines.
"This is the first shipment of 50,000 doses which came last night only," an official of AG Pharma which imported the vaccine told Reuters. The official spoke on condition of anonymity. He wasn't officially authorized to release the information.
Earlier this month, Pakistan launched a COVID-19 vaccination drive, starting with elderly people.
What do you think of this story? Let us know in the comments section below.