Pakistan tops the charts of homophobia in the world, while ironically leads in Googling gay porn.
A data published by the American Pew Research Centre instigates that Pakistanis are a strong opposition to homosexuality in the world.
It claims: "There is broad acceptance of homosexuality in North America, the European Union, and much of Latin America. However, rejection of homosexuality is equally widespread in predominantly Muslim nations and in sub-Saharan Africa, as well as in parts of Asia and in Russia."
The date unfolds a survey that comprises an analysis of 39 countries. It concludes Canada, Czech Republic, Germany and Spain to be the most tolerant nations, with figures indicating around 80% of patrons pestering acknowledgment of homosexuality by the society.
At the other end of the page, African nations that include Uganda, Ghana, Nigeria and Senegal revealed levels of intolerance beyond comprehension. It claims that over 95% of respondents do not accept homosexuality. Kenya finished close, with 90% rate of response towards non-acceptance.
The Middle East was also in the queue of disapproval with a response claiming a 90% share. The middle eastern nations involved are Palestinian territories, Jordan, Egypt and Tunisia. At the same time, Indonesia finished at 93% of respondents dissing homosexuality while Pakistan remained 87%.
Oh, the irony…
Google trends present a shocking truth about Pakistan. It unveils a staggering truth about our homophobic people via Google trends. Google reveals that most searches for same-sex pornography emerge from Pakistan.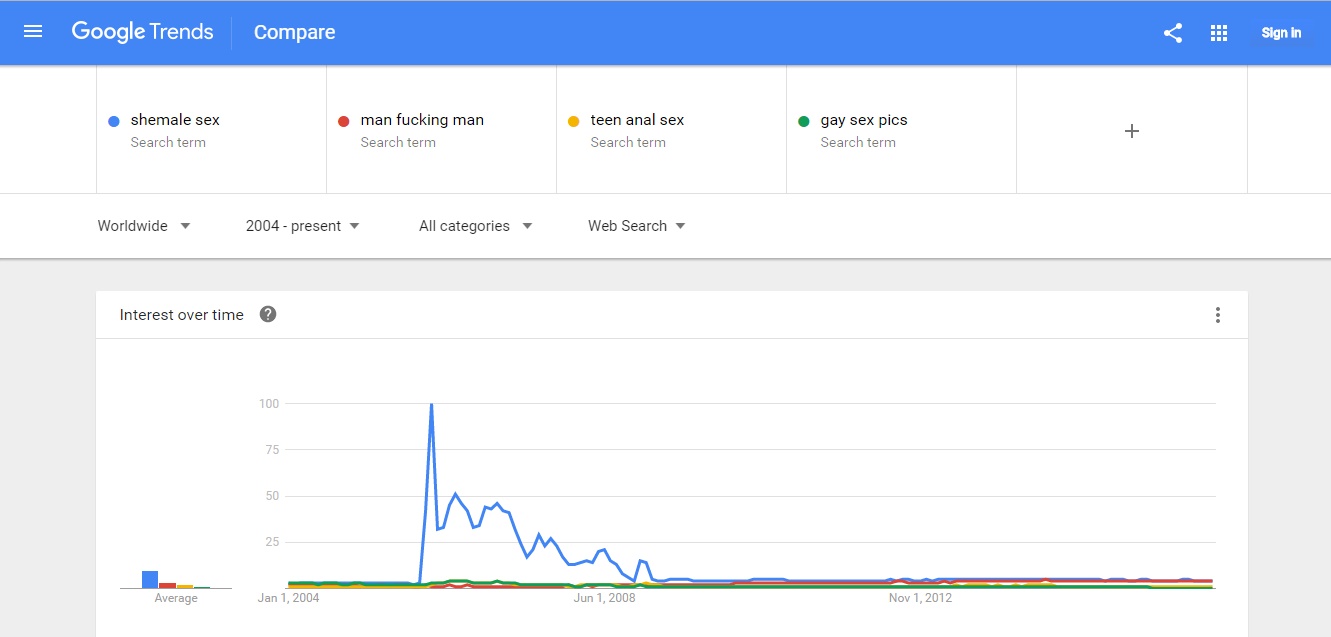 A leading and independent news organization, Mother Jones revealed in an analysis that pornography relating to homosexuality is most popular among Pakistanis.
It claims that the top searches emerge from the interior of Pakistan and also from conservative areas of KPK, such as Peshawar.
Apart from that, the most interesting thing is that homosexual Pakistani men seem to have physical relationships without characterizing themselves as "homosexuals".
Mother Jones further reveal a script from Farahnaz Isphani, an ex-parliamentarian and a leading expert of minorities in Pakistan at the Woodrow Wilson International Centre for Scholars claiming: "The real love they can have that most of us find with a partner, they find with men. They mostly see their wives as the mother of their children."
She further adds, "Hindus are being forced to convert, Christians are being burned alive – there's very little personal safety for those seen as 'the other'. So what do [gay Pakistanis] do? They turn to pornography because they can't live their lives openly."
It can also be said that along the rise of Internet searches for gay porn in Pakistan, there could also be a rise in extremism.