A group of street kids in Indian-occupied Kashmir gave a befitting reply to an Indian journalist when they engaged in a conversation with him.
Brave Kashmiri children can be heard condemning the presence of Indian forces in the valley. A video is recently circulating on social media that shows Kashmiri children leaving an Indian journalist speechless with their response.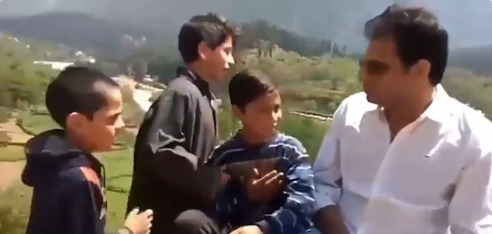 "If the Indian army withdraws, then Pakistan will come and bomb you. You know it is difficult to sit in Pakistan like this," says the Indian journalist.
In response to a concern expressed by the Indian journalist, one of the boys stated with confidence, "Pakistan and China are with us".
"'Pakistan is with us. Even if it kills us, we will be happy." They then started shouting 'humein kya chahiye, azadi' [we want freedom], leaving the Indian reporter speechless.
Take a look at the video:
Despite using guns and tanks for seven decades, Punjab Governor Chaudhry Sarwar said India has not been able to suppress Kashmiris. The governor expressed these views while posting the same video on his Twitter account.
"In occupied Kashmir, Indian forces have been using every force from guns to tanks for 70 years. 95,000 Kashmiri martyrs have been martyred. Kashmir will become Pakistan," wrote the Punjab Governor.
Asad Umar, the Federal Planning and Development Minister, also responded to the video and said India cannot suppress the freedom struggle of Kashmiris.
"For more than 70 years, India has been using force to crush the Kashmiris' struggle for independence," he wrote. "Listening to the message of these Kashmiri children in this video will make you realize that even if India keeps trying for the next 70 years, it will not succeed."
Twittersphere praises the level of awareness in Kashmiri kids
"No power in the world can defeat these emotions, salute the bravery and greatness of these innocent children," wrote one user. "May Allah keep them safe and sound."
"I swear to God, tears came to my eyes when I saw these children. Alhamdulillah, how Pakistan is loved today by the children of Kashmir," wrote another.
Throughout the conflict, Pakistan has been pressing for the resolution of the Kashmir dispute based on the UN resolution. However, India does not want to grant Kashmiris their right to self-determination and attempts to suppress Kashmiris with force.
India continues to violate human rights in IOK. Both Pakistan and Indian hold parts of Kashmir. Meanwhile, fake encounters are frequent in IOK where Indian forces kill young and old Kashmiri men, terming them as terrorists.
Read More: This Kashmiri Woman's Reply To An Indian Soldier Asking For Her Jihadi Husband's Surrender Is Brave!
What do you think of this story? Let us know in the comments section below.