Every year, coinciding with International Women's Day, an event of Aurat March is held all major cities of Pakistan. Women, men and allies participate in Aurat Marches to mark International Women's Day and call for the protection of women's rights. The same happened on Monday.
Mask-wearing protesters marched in Islamabad, Lahore, and Karachi on International Women's Day to demand equal rights for women. The organizers made it mandatory for protesters to maintain social distance during the COVID-19 pandemic.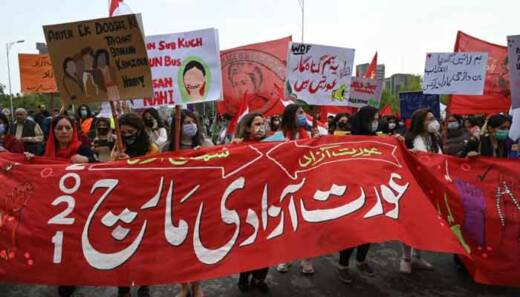 In Karachi, the march took place at Frere Hall. Strict security arrangements were put in place at the venue. The march itself attracted a sizeable crowd, comprising people of all ages and from all walks of life.
Meanwhile, in Lahore, the Aurat March started from the Lahore Press Club. It reached its destination outside the Punjab Assembly building. The Aurat March Lahore organizers also laid out a "#MeToo blanket" on which women shared their experiences of sexual violence and abuse.
In addition to this, the participants of the march also displayed women's clothes with words written on them, termed "stains of patriarchy". It reflected their experiences with patriarchy and the abuse suffered by them. The clothes were hung on wires across streets and walls.
While the Aurat March in Karachi focused had its own manifesto focusing on patriarchal violence, and Lahore addressed the healthcare workers and women's health, the Islamabad march dedicated to the crisis of care.
What the Aurat March 2021 demanded?
Demands included bringing an "end to gender-based violence by patriarchal forces as well as state-backed violence targeting activists, religious groups and communities and effective and transparent investigation of gender-based crimes and fair and expeditious trials".
Other demands include criminalization of virginity tests for rape victims, establishment of gender-based violence reporting cells in police stations across Sindh and Pakistan, and an end to sexual harassment.
In line with its focus on healthcare workers and women's health, demands include fulfillment of basic necessities by the state. Moreover, better infrastructure is given to survivors of abuse who need access to mental as well as physical care within a rehabilitative framework.
Concerns also raised for implementation of the Transgender Act 2018, an end to underage marriage, and several other issues associated with the health sector.
Here are some of the best placards at Aurat March 2021
All these power slogans and posters shed light important problems and issues that women face and the solutions they need.
The first Aurat March was held in Karachi, 2018. After that Lahore, Islamabad, and Faislabad followed suit. Moreover, last year many slogans from Aurat March were staggering. 
What do you think of this story? Let us know in the comments section below.