It was in the mid 70's that Pakistan and England entered into one-day competitions against each other. Since 1974, both sides have confronted each other 87 times. Out of the 80-odd Pak vs Eng ODIs, the latter fares a better record with 53 wins and 31 losses. No ODI till date has resulted in a tie or no-result. By looking at the overall ODI record of head-on collision between the two sides, the probable result of any match or series can be predicted with significant accuracy. The latest venture of Pak-Eng ODI Series comprised of five head-head confrontations in England, which is also the venue for the upcoming ICC World Cup 2019.
What Pakistan Forfeited To Let Its Opponents Gain?
Let's make a confession here. Our Team Green happens to be the most unpredictable lot among its contemporaries. We might snatch an incredible victory from our opponent's jaws, and yet give away a sure win to the opposition as a present. More often than not it has happened at so many occasions and against all levels of opposition teams. Our entire ODI history is strewn with jaw-dropping performances, unimaginable outcomes and illicit justifications. Just with what frequency we have found our men in green succumbing to teams like Bangladesh and Afghanistan, is beyond any hypothesis. We proudly claim to be one of the best playing sides. But, Pakistani cricket has almost always suffered at the hands of its players' own childish acts, on-field follies and off-field lack of pre-match homework.
Pakistan's Unsatisfactory Performance: Unpredictability At Its Worst!
The Pak-Eng ODI Series Under Scrutiny
In the latest ODI contest between the two, England easily managed to clean sweep the 5-ODI series by 4-0, with one game drawn. Without any surprises, it was yet again our green men who had to bite the dust. The Pakistani cricket fans gulped down yet another bout of utter disappointment and dashed hopes. With the 3rd consecutive win, the 1st game washed out for a draw, England sealed the series in its favor. And, the 5th ODI culminated in no different result for us. Although unimportant to the English side, they played equally well in the last one to wrap up the series 4-0.
What Went Wrong, And Where?
Our Eternal Wrongs
Taking stock of our players' wrongdoings in a game of cricket can be a cumbersome task. We periodically perform so lowly and modestly in a fashion probably unknown in the rest of the cricketing world. Our ICC Test ranking might be on the higher side, but the ODI position couldn't present a bleaker picture than the current one. Our ICC ODI rankings have been as volatile as could be, ever since the ICC devised and introduced ranking systems in all cricket formats. We have seen our green flag flying high, topping the ICC list, but no for long. Nearly most of the time, we have witnessed our green shirts dragging themselves and struggling to stay in the first five.
Sadly enough, we all know that Pakistan's cricketing affairs have always been on the sophisticated side. Our game is simply unable to acquire a better shape beyond criticism, arguments, suggestions and recommendations, all in black and white.
Pakistan's Dismal Performance Against England: Lofty Shot Clearing All!
Our Dismal Performance In Pak-Eng ODI Series
Yes, true to the last dot of it.
The level to which our recent one-day performance has plunged is better omitted here than fetching under discussion. The Pakistan team opened its year 2019 account pretty badly and continue as such. In 12 matches across three series, they have won only two and have lost nine. Our latest performance in England served no less than a mirror to our cricketing future, the World Cup 2019 lying at the doorstep. As per this particular 5-ODI series, many a discrepancies and weaknesses popped up that are no new to the team officials as well. Let's take a closer look at some of the major ones that need (somebody's) due attention:
Our fielders, for one thing, rank as average performers while standing up tall for full 50 overs. Lethargic ball chase, inaccurate throws, missed chances, dropped catches and what not! You name any anti-cricket quality and our green haws are sure to possess it! The social media is an apt fireplace where our non-performing lot gets grilled to the last bone. Our captain's post-match pressers and the content within them now sound a mere formality brimming over with lame excuses. At least our skipper needs to train himself that no words can console the bleeding heart of a die-hard Pakistani fan.
Our Batsman Sees His Stumps Rattled: Exposed To Lack Of Will!
Our "Stupendous" Stupidities That Counted
Talking of stupid actions and reactions, our Team Green never seems to fail us nor the else cricketing nations. Ironically, we yet again proved our mettle at that, not only once but twice. The first one got our skipper into the scene when he missed out a definite stumping appeal which the TV umpire later confirmed affirmative with no avail. How could a senior wicket-keeper skipper skip an explicit appeal needs Sarfaraz's invincible skills.
The second one? Well, we thought of skimming it within this piece. But, we love that broad smile and laughter that go down as your reaction. The "villain" this time was none other than our Shoaib Malik who seems one stranded between two dilemmas of both bowling and batting. He calls himself an all-rounder, although both of his skills stand debatable. What he did couldn't be expected even of a club-level player. While attempting to nudge a delivery, he only managed to smash his stumps with his bat. Dismissed as hit-wicket, a rare way of retiring to the dressing room.
Shoaib Malik's Unique Dismissal: Onto A Suicide Mission!
After Disappointing Pak-Eng ODI Series, Do We Stand A Chance?
A very pertinent question in the context of Pakistan's hopeless performance bringing in any good to its name or nation. Amidst strong and potent sides, bagging the World Cup trophy would be no child's play. And, our ICC one-day ranking depicts nothing encouraging either. The latest Pak-Eng ODI series aimed at preparing our relatively young playing side for the weather conditions, pitch structure and on-field general conditions. Besides, the series provided ample opportunity to all of our players in all departments of the game.
Even after a gloomy beginning, let's not shed off our hopes so early. After all, we are very much in the tournament and look to end up in a desirable fashion. Had it been our home ground and crowd, we would have definitely expected a good position in the tournament.
Some Tidbits From The Cricketing Front
Chief Selector Announces Pak 15-member Squad Playing ICC World Cup 2019
Inzamam-ul-Haq, our veteran batsman and PCB's Chief Selector, finally called on a press conference in Lahore's famous Ghaddafi Stadium. It was an extraordinary meet-up where he revealed the names of the lucky 15 candidates representing Pakistan in the upcoming World Cup. The green squad comprises the following:
Openers:
Middle-order batsmen:
Asif Ali
Mohammad Hafeez
Babar Azam
Sarfaraz Ahmed (captain & wk)
Haris Sohail
Shoaib Malik
Spinners:
Fast Bowlers:
Hassan Ali
Shaheen Shah Afridi
Mohammad Amir
Wahab Riaz
Mohammad Hasnain
Junaid Khan Breaks Silence With His Mouth Shut
We all had expected Junaid Khan's induction into the final playing side. His impressive bowling performance lately speaks of his superb form and rhythm. Just as the announcement arrived, Junaid was taken by surprise over PCB's indifferent attitude of overlooking him for the squad member. The pacer's reaction was swift as he took to the social media to vent his sentiments with his mouth shut and taped. He merely commented that he was familiar with the uncanny ways prevalent PCB's selection process. Though a unique way of registering protest against "unlawful" and "unfair" decisions, Junaid's cricketing future still hangs in the balance.
Junaid Khan's Silent Protest: Shouting Out With Mouth Shut!
PCB Gets Fresh, Smart World Cup Kit For The Team
Team Green is all set to dazzle in the English grounds amidst their crowd, at least with their outward appearance. The members would be clad in newly designed shirt, trousers and a cap, all dyed with a deeper shade of green.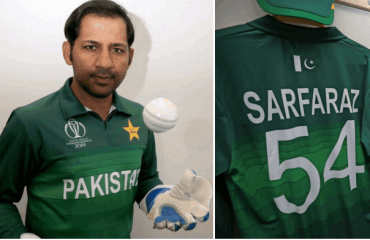 The freshly prepared kit was showcased in a premier held yesterday. Similar to the brilliant and glistening fabric, we as a nation and their ardent followers are hopeful of their fabulous game-play at the hour of need.