Karachi, May 7th, 2016: Paish-e-Lafz, the year's most awaited literature festival, received laurels on its successful execution. Organized by an array of creative students from SZABIST at 'The Second Floor', this one-day roller coaster was a unique experience for its audience.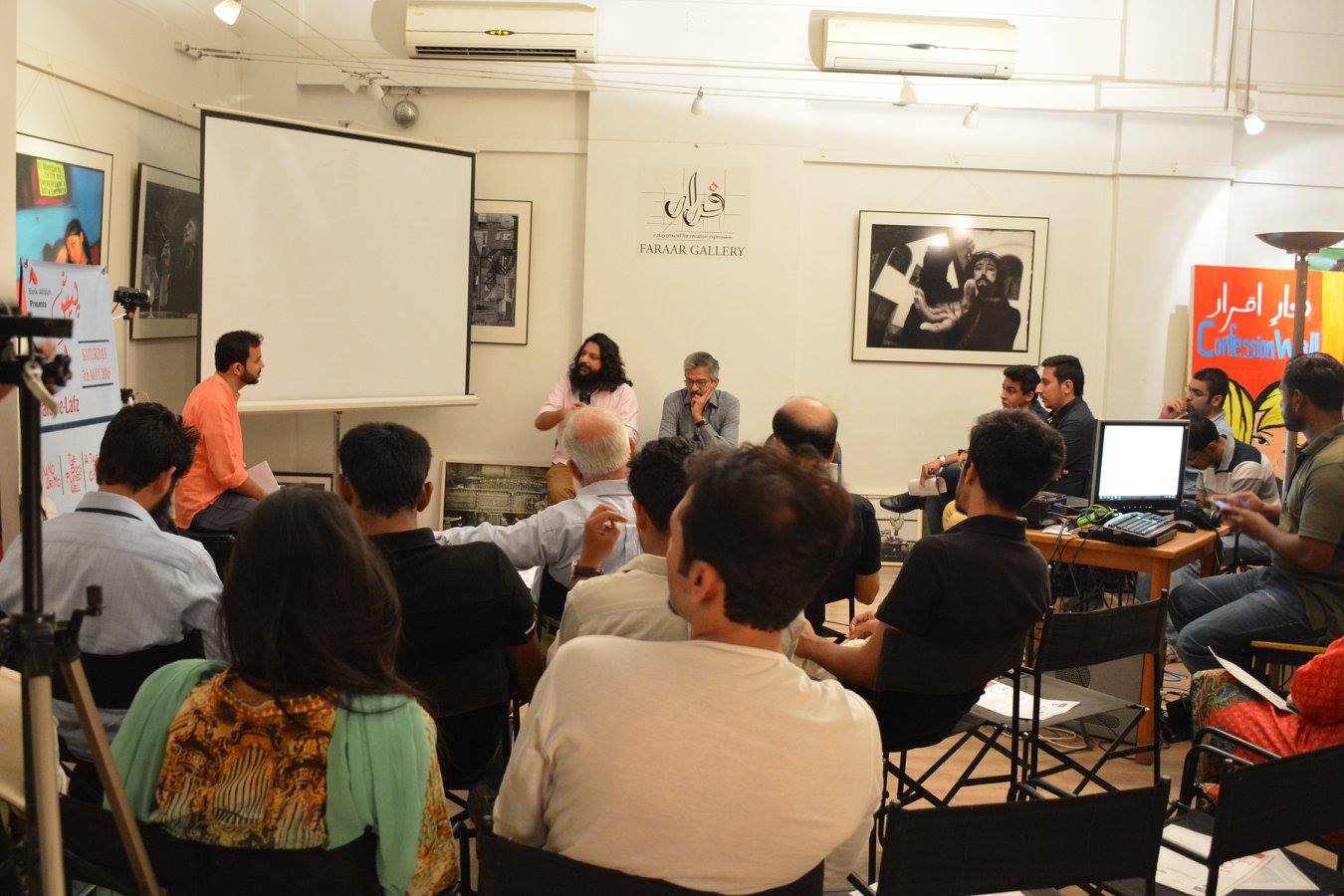 With a view to reflect the depth of creating dialogue, understanding the literary culture and the desire to create a platform to foster understanding and creativity, Paish-e-Lafz witnessed four exhilarating segments including; 'The Boys Played Well', 'A Tale of 3 Cities', 'Na No Wri Mo by DWL' and the screening of critically acclaimed movie, 'Ankhon Dekhi' followed by a Q & A session with its writer, producer and director of the former, Rajat Kapoor.
The most awaited and exciting part of the day began with the extraordinary segment "The Boys Played Well". The audience witnessed the appearance of various renowned cricket personalities such as Ahmer Naqvi, Sikander Bakht and Shoaib Mohammad discussing and presenting their views on how they could bring international cricket back to Pakistan, and reasons as to why a once fearsome team like theirs, is now overshadowed by competition from all around the world.
With that, the second humor-filled segment of the hour, "A Tale of 3 Cities", brought satire and live cultural connect, represented by each city's most acclaimed personalities.
Naveed Mahbub from Dhaka, Mehreen Syed from Karachi and Ganapathy Balagopalan from Mumbai shared their lives as citizens and enlightened how these cities are unique, yet similar in their culture, traditions and values.
After this friendly interface, came in the most important segment of Paish-e-Lafz at 4:30 p.m, "Na No Wri Mo" by Desi Writer's Lounge. The audience was given a fun-filled approach to creative writing and a brief about Na No Wri Mo followed by stimulating interaction with the audience.
As the day proceeded, the most awaited segment of Paish-e-Lafz, the screening of Ankhon Dekhi was in line.
With their presence, Anwer Maqsood, Saba Hameed, Erum Binte Shahid, Nadeem Baig, Shakila Qureshi, Sajid Hassan, Laila Wasti, Azfar Rehman and Yasir Shah made this segment a star studded endeavor.
Filled with enthusiasm, all awaited the Q & A session with Rajat Kapoor and once the movie ended, leaving everyone astounded, Mr. Rajat Kapoor delighted everyone present via his Skype presence at Paish-e-Lafz. In the latter half of the segment, he explained his inspiration for the movie, his ideologies about film making and cinema, his journey and future prospects, his recommendations for the industry and youngsters along with engaging him in satirical conversation.
On that note, Karachi's most prestigious literature festival came to end, leaving everyone talking about the zeal of the organizers' work that made this day a successful one. Kick starting the first edition of Paish-e-Lafz literature festival, these students have given the people an experience to look forward to for the years to come.
Boiler Plate
Shaheed Zulfikar Ali Bhutto Institute of Science and Technology (SZABIST) is a fully Chartered Institute established through a Legislative Act of Sindh Assembly (Sindh Act No. XI of 1995) and is approved and recognized by Higher Education Commission (HEC), Pakistan, as a degree granting institution recognized globally for its excellence in education, scholarship in research and distinction in service.