We are all in praise of this young artist who skillfully made this digital painting of Halima Sultan and Ertugrul and proudly dedicated it to his father, Syed Taufiq-ul-Hassan.
Not something we expect to be dedicated to a father but that's when it makes us wonder the significance of art. Whether it is the love for digital painting or the love for an entire nation's favorite series Ertugrul. We all know how this works on so many levels, and what could have inspired the artist.
My fan art for Ertugrul ❤I hope you like my work. ❤Share it if you are too an Ertugrul fan. ❤Show your love. 😍🤗

Gepostet von Ahmed Arts am Mittwoch, 13. Mai 2020
So, who is this artist in real life?
Syed Ahmed ul Hassan, son of Syed Taufiq ul Hassan, is an electrical engineer from UIT. The most astonishing fact about this story is the fact that he is a self-taught artist. Pakistan certainly is full of talented artists, doesn't it? This kid has been drawing since he was 7, he says. And he is a die-heart of this series Ertugrul (of course, why not?! The entertainment industry is buzzing with this show currently and for all the right reasons, might I add).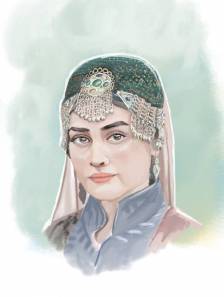 This artist's motive is to promote local artists in the world. He wants people across borders to see his work, and from him, of other artists as well. It is quite impressive of our artists to plunge into becoming the representatives of our art for the outside world. And we know well it is not easy. It is not a position that just anyone can uphold. It requires confidence and a strong conviction to represent oneself through the expression of art and we all can agree this boy is doing it right.
The details of his digital painting
He also shared with his viewers the details of his digital painting in a YouTube video. His mastery is quite visible in his attempt. And above all, his penchant for Ertugrul is blaring high and loud through this effort.
Ertugrul has recently prompted many reactions from the public recently. From making public go gaga on their Instagram profiles to appreciating their actions in favor of Pakistan. The love for this series is in the air and we are all soaking it in while some are expressing it through their artwork.
What do you think of this story? Let us know in the comments section below!