In the modern 21st century, social media has the power of doing everything. In the course of a few minutes, a viral story can either make your life or ruin it – depending on what its context is.
Previously, we have seen how social media reshaped the lives of various ordinary individuals.
Do You Remember Chai Wala?
Pretty sure this face was and still is pretty hard to forget, given how we saw him everywhere.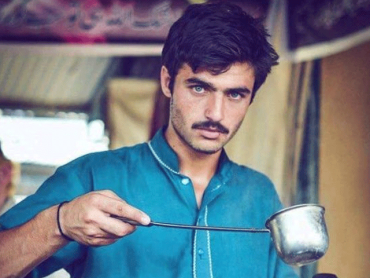 All thanks to a picture taken by a local photographer, Arshad chai wala rose to fame because of his looks and his story became a hit worldwide.
While Arshad chai wala went viral solely on his looks, there is this paint wala who stunned everyone with his singing talent.
In Case You Forgot, Here Muhammad Arif
Another example of how social media allowed Muhammad Arif to leave painting rooms and homes aside and focus on his talent, singing.
Now We Have Another Paint Wala And He Could Definitely Use Your Social Media Help As Well
We don't know his name, we don't know where he is from, but he definitely needs your attention and help. In a tweet that is all over Twitter, there is a hashtag of #PaintWala in the end of it where a young boy is seen covering Mora Sayyan by Pakistani band Fusion.
He reaches the high and the low notes perfectly!
The Video Has Over 2.7k Views and He Could Definitely Use More Attention and Fame!
Twitter please do some magic and make this guy just as famous if not more than the #paintwala ❤️?? pic.twitter.com/5DMlqLUZzp

— a a d i (@AadiHun) October 14, 2018
So let's make this Paint Wala viral and see if he manages to land a gig based on his talent and potential!