Are you an overseas Pakistani who has struggled in the past with getting things back home? You sent a lot of money to a vendor in your home city but never got the service as expected? Well, those days are over now because InstaKin is here. InstaKin presents an exciting app for overseas Pakistanis.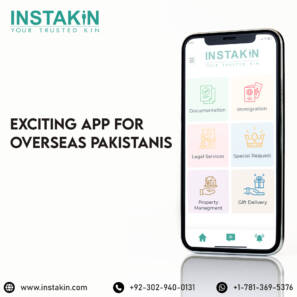 We came across a Pakistani in the UK who sent thousands of Pounds back home to get a simple task accomplished, but she couldn't. The local vendor took the money and disappeared.
InstaKin was founded by overseas Pakistanis who lived in the Middle East and the USA and faced the same problem. They could never find good vendors for tasks and always relied on busy friends to help them out.
We found a Pakistani living in Dubai who was sending money back home to his cousin for paying home bills, only to learn that the funds were redirected to other uses.
These are just some examples of overseas Pakistanis who got tired of a bad experience with sending money to Pakistan and now want to have access to higher quality business vendors. This is where InstaKin's value proposition is so unique.
The founder of InstaKin came up with this new and innovative idea as they have felt the pain of overseas Pakistanis. For the past two years, InstaKin is striving to serve 7.8+ million overseas Pakistanis and now presents an exciting app.
InstaKin now empowers overseas Pakistanis to manage all their tasks back home in a one-stop solution via a mobile app that is easy to use and provides transparency of how the funds being sent home are being used. Using the app is simple, secure, and instant. The primary purpose of InstaKin is to help overseas Pakistanis with all tasks back home.
InstaKin Application Major Features that overseas Pakistanis can Enjoy:
Document Attestation
Secure Escrow based payments
Event Management
Property Management
Gift Delivery and much more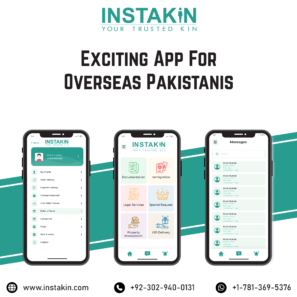 Every Overseas Pakistani will have InstaKin's mobile app to access and pay for any services they require in Pakistan.
InstaKin is backed by some of the largest Venture Capital firms in the world.
InstaKin was named as one of the most innovative Fintechs in the world read more at Dialy Finance. Just download the InstaKin App and find the answers to all issues on one platform.
So, what are you waiting for? Signup and make your life easy.
For iPhone Users Click here
For Android Users Click here
What do you think of this story? Let us know in the comments section below.