There are very few players who win hearts and Babar Azam is one of them. It's hard to believe what he has been through in the past few days and with that stress, he managed to lead his team to victories.
While playing against India, New Zealand and Afghanistan Babar Azam's mother was on a ventilator.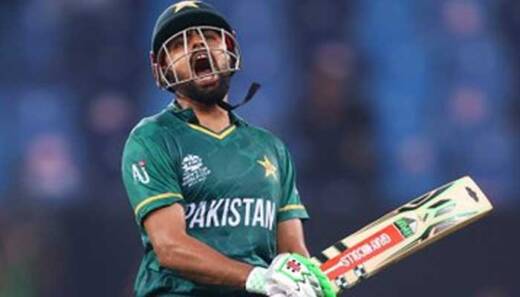 Especially against India, she's gone through surgery and on a ventilator while he's wrecked, Indian cricket teams. When such news come out many of Babar Azam's fans shared their love and prayers for his mother.
Recently one of the finest actors Saba Qamar also shared her love and asked fans to pray for her.
Sabar Qamar shared her love & pray for Babar Azam's Mother
Babar Azam didn't showcase the stress or any expression throughout the match. The way he exhibited his bravery was exceptional.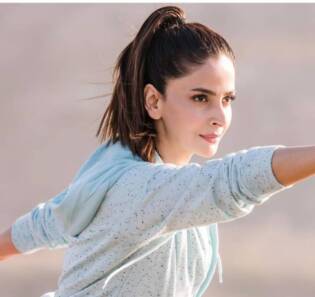 Sabar Qamar requested her millions of fans and followers to pray for his mother. "Babar Azam's mother is [was] on the ventilator. She couldn't watch the last three matches, let's pray that Allah (SWT) blesses her with the best of health. Ameen."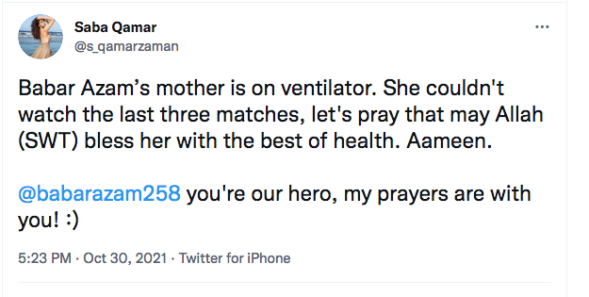 She also tagged Babar and called him "our hero" and added, "my prayers are with you!" On Saturday, Babar Azam's father revealed that "his son and the cricket team captain led Pakistan to three wins at the ICC irrespective of the test at home."
Azam Siddiqui said, "It's time for my nation to know this truth. Congratulations to all of you on the victory in all three games. There was a big test at our house as well. On the day Pakistan played against India, Babar's mother was put on a ventilator."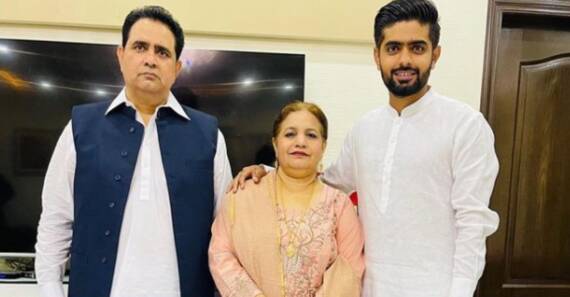 He added, "Babar played all three matches in severe distress. I didn't want to come here and say this. But I must. I want to so Babar does not fall weak. It is by the grace of God that she is fine now."
Azam Siddiqui concluded, "The purpose of sharing is to also request everyone to think before criticizing your national heroes without any reason. There is no victory without a test. Long live Pakistan."
Knowing the whole scenario, Babar Azam didn't disappoint the fans on the important match against India and scored a half-century to lead his team to victory.
Way Babar Azam showed his passion for cricket and led his team towards the path of victory despite having that intense situation.
What do you think of the story? Tell us in the comments section below.