A film on Qandeel Baloch has been announced in India. Filmmaker Alankrita Shrivastava, who has directed Made in Heaven and Bombay Begums, will be working on the said project.
According to The Indian Express, producers Vikas Sharma and Sunny Khanna, along with Shrivastava have acquired the rights to the book The Sensational Life and Death of Qandeel Baloch by Pakistani journalist Sanam Maher. 
This has raised a pertinent question amongst Pakistani film directors – why is a Pakistani story not being told by Pakistanis? In his recent tweet, international award-winning filmmaker Mohammed Ali Naqvi wondered if any Pakistan woman filmmaker had been approached by the producers.
After all, no one can tell a story from Pakistan like a Pakistani, who is well attuned to the nuances and cultures that govern social norms which lead to consequences such as those suffered by Qandeel.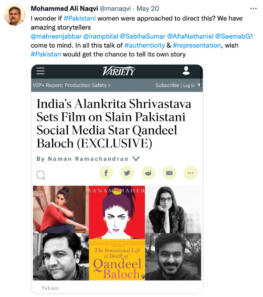 Qandeel Baloch, a Pakistani social media sensation, and internet start rose to fame with her YouTube videos. She was murdered by her brother, Waseem, in 2016 for 'dishonouring' the family.
There were very few who were not affected by Baloch's tragic demise, it shock the nation with waves of outcry against the heinous honour killing. Qandeel's life and end both are a significant part of Pakistani pop culture and social discussions.
Her story is one that should be told by a Pakistani and even better if it is a woman. As Iram Parveen tweets.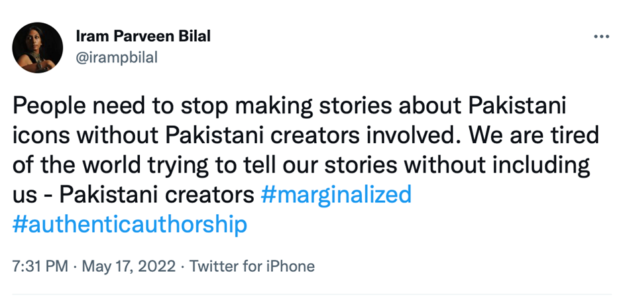 It is indeed unfortunate that despite being home to several internationally acclaimed, award-winning filmmakers and directors, Pakistan is virtually ignored even for films originating from its soil.
Why are we overlooked? It is not because of our lack of talent as there has been international recognition, with "Joy Land" being the latest in a long list of films with international acclaim. Is it outright discrimination? Or we don't project ourselves? Why are we on the peripheries of the international film industry, easily disregarded, easily forgotten?
The more important questions are what can we do and what do we need to do to make sure that our presence is acknowledged and we are not ignored, especially for our own stories.
What do you think of the story? Tell us in the comments section below.