We often are forced to believe that Pakistan is progressing. Well, to some extent, it is. There're occasions when many of us must have tried to tell our friends abroad that things have changed here. And, yet we are made to realize every now and then that no we are still far from reaching the peak of that change. Let's take the example of our entertainment industry, how Osman Khalid Butt reacts to an online troll on intimacy.
"We can slap women on TV but can't show intimacy," said actor Zahid Ahmed recently in an interview. He has a point.
Just in October last year, PEMRA came under fire over a Pakistani drama that openly talked about sexual acts. Many condemned it for the drama which was not even its property. Such is the level of acceptance when it comes to even a mere talk about sex let alone intimacy here.
Now let's come back to Ahmed's intimacy comment.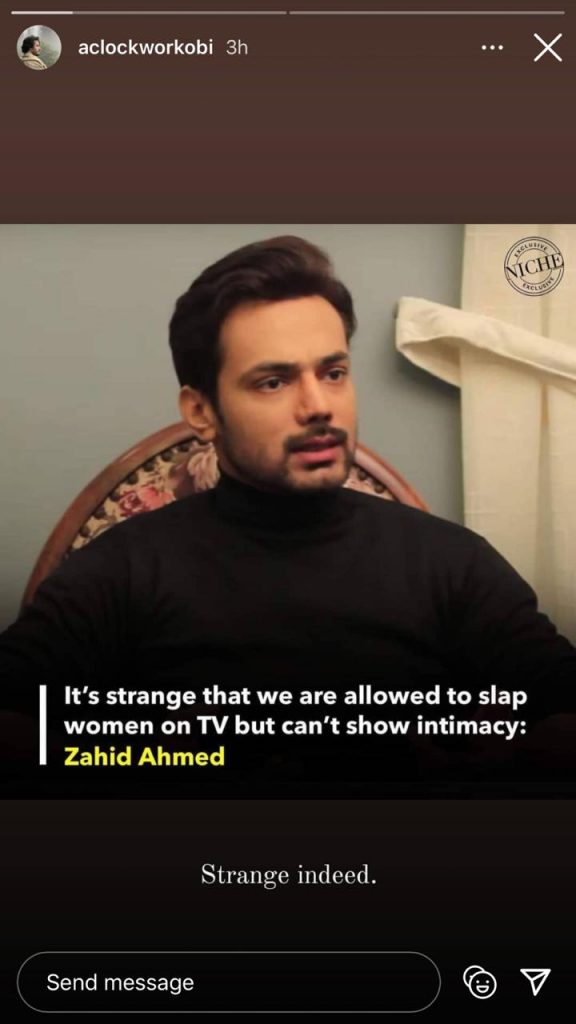 Actor Osman Khalid Butt also shared the comment by Ahmed with the caption: "Strange indeed." Soon Butt received a message from a social media user. The user alleged that the actors use this as a "pathetic excuse to get physical with female actors".
Replying to Butt's story, an Instagram the user messaged, "Just a pathetic excuse to get physical with female actors. Not to mention the influence it has on society and especially on young children and teens."
This was when Butt decided to educate the troll explaining that "intimacy is just not sex".
"Yeah so reactions like this are wholly predictable," he added. "First off: intimacy is not just sex. Secondly, I'd rather my child see a healthy intimate relationship between fictional spouses than, you know, physical abuse being normalized."
"The nerve to talk about 'influence'," sais Butt.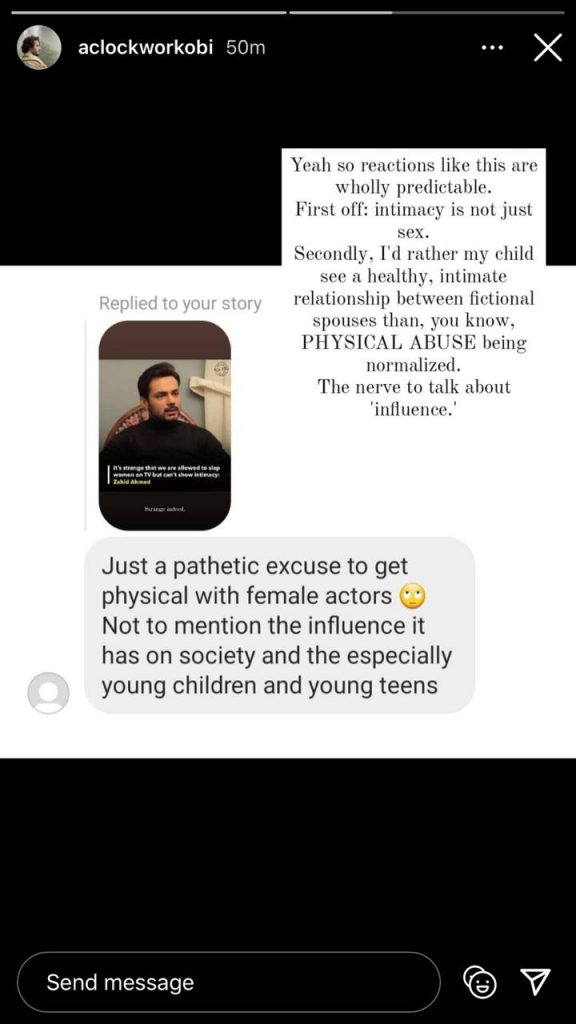 Butt has been extremely vocal when it comes to defending women's rights in Pakistan or raising a voice for the voiceless. He is socially sound and politically aware, unlike other Pakistani artists.
In another interview, Butt had shared where the urge to speak about women's issues comes from.
"Artists have a responsibility because art is very socially relevant, and I think good art creates empathy, and empathy is required to bring change," he said.
Whether it comes to supporting the Metoo movement or talking about issues related to women, rape, abuse, or injustice in society, we always see Butt standing in the front row like a rock. We love and respect the Pakistani actor as he truly deserves every iota of it. More power to you, Butt!
What do you think of this story? Let us know in the comments section below.