One of the most notable drama's aired last week on Pakistan television, Baaghi bided farewell to the silver screen. The show that geared much hype, based on the provoking storyline of the late internet sensation Qandeel Baloch, left everyone in tears.
Nobody deserves to die the way Qandeel Baloch did – nobody should be caged for their freedom, the way Qandeel Baloch's brother did.
Pakistanis Were Left in Awe After the Final Episode
No one has the right to kill. Either it's the rapist or one's own brother. Last episode of Baaghi made me cry. #QandeelBaloch

— Madiha Shahid (@beingmadiha) February 1, 2018
I was not able to understand why was I crying.After all that was just a fictional story.But that was not only a story that was story of our society in which we are living.Where men are given free hand to kill their sisters,daughters and wives in the name of fake respect.#baaghi

— ? (@_Ayeshyy) February 1, 2018
The Actors Indeed Did Justice to the Story of Qandeel Baloch
https://twitter.com/asad_abdullah17/status/959164101594316800
The Ending That Left Everyone in Tears
@s_qamarzaman today you made me cry… Every scene that you played as #QandeelBaloch simply hats?off for that.. We are so lucky to have an Amazing Actress like you- #Baaghi literally rocks #superproud
And that last part, you made me to love you even more❤️ pic.twitter.com/a3K2zgGWzz

— Yousra Fazal (@yousrafazal) February 1, 2018
Osman Khalid Butt, Who Played One of the Main Roles in Baaghi Shared his Emotions
Baaghi broke my heart today.

— Osman Khalid Butt (@aClockworkObi) February 1, 2018
Obi was doing a live feed with his friends while watching the final episode of Baaghi. During his live reactions came the ending part of the show – where Qandeel was brutally murdered and uttered the words that made everyone wondered how they've contributed to her death.
In his Live Feed, Obi Started Shedding Some Tears – Just Like All of Us
Crying just shows you have emotions; that you feel pain; that you feel your heart-wrenching. Is crying that bad?
Look at Obi's Reaction to Someone Who Ridiculed Obi's Crying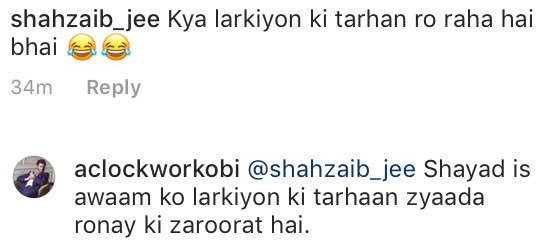 People Were Praising the Show and the Actors' Performances Throughout!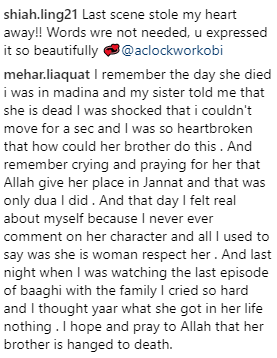 Here's More!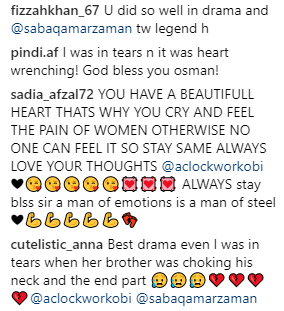 What made everyone see through this drama is how there's a Qandeel out there, being killed in the name of honor by a man who doesn't know how to keep his. Baaghi wasn't just the story of the late Qandeel Baloch – it is the story of every woman who is killed because she dared to do something because she dared to choose her freedom.
Congratulations to the cast and crew of Baaghi; you indeed did justice to Qandeel Baloch's unheard story.