Disclaimer*: The articles shared under 'Your Voice' section are sent to us by contributors and we neither confirm nor deny the authenticity of any facts stated below. Parhlo will not be liable for any false, inaccurate, inappropriate or incomplete information presented on the website. Read our disclaimer.
Many of us know Orangi Pilot Project as a well reputed NGO with reference to the visionary legend, Architect Perween Rahman. It's very rare to stumble upon an honest NGO in a city like Karachi…  But I feel like I was lucky in that way. After graduating as an Architect, I found myself working at the NGO on the insistence of my teacher, Perween Rahman.
My family found it quite frustrating and even amusing that I was working at an NGO rather than at an architectural firm. They tempted me to leave and work as a proper architect. But I found my role at OPP quite fulfilling and more than that, I was inspired by the vision of my boss and mentor, Perween Rahman.
For those who don't know, Orangi Pilot Project is an NGO formed in 1980 by Dr. Akhtar Hameed Khan and was divided into three autonomous institutes in 1988; OPP-Research and Training Institute, OPP-Orangi Charitable Trust and OPP-Karachi Health and Social Development Association. OPP-RTI undertakes the Sanitation, Housing/Secure Housing Support (Housing, Saving and Loan Program), Education, Water Supply and the Saving Groups programs, the research and training for these facilities as needed for the training activities of OPP institutions.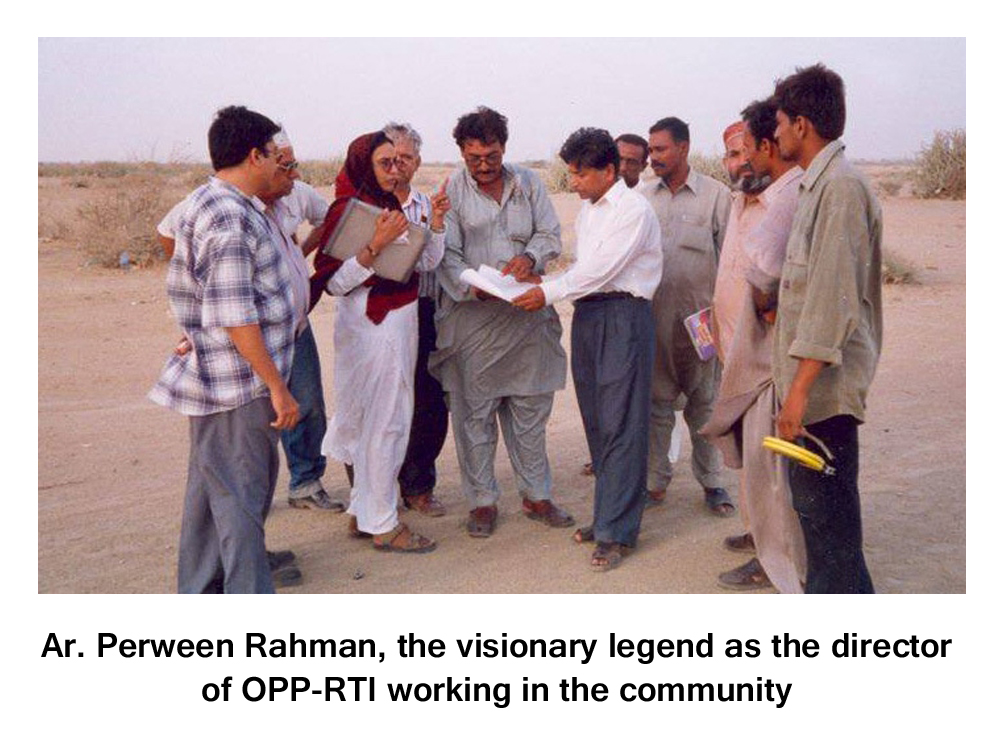 OPP-RTI since 1988 was directed by Dr. Perween Rahman till she took her last breath on 13th March 2013. Perween Rahman was shot dead in 2013. Her death gained quite a fervor for she was murdered for her dedication to her work. The media took great notice of her death due to her work for the low-income settlements. This was a little ironic considering her humble personality. It reminds me of one of her favorite words, "hume apna parchaar nahi karna". She believed in working under a low profile so that the people would feel comfortable in approaching the organization with their problems. OPP, from its initiation in 1980, has built itself on a minimalistic approach. This is apparent in its simple office and low salary scale.
It is not easy to write about Parveen Rahman's work and efforts for the organization. She was a visionary and held a minimalistic philosophy (formed by the scholar, Dr. Akhtar Hameed Khan) of the prestigious organization with great strength. Following Perween Rahman's death, the office presumed under the directorship of Mr. Salim Alimuddin who pursued the same simplistic approach; until recently.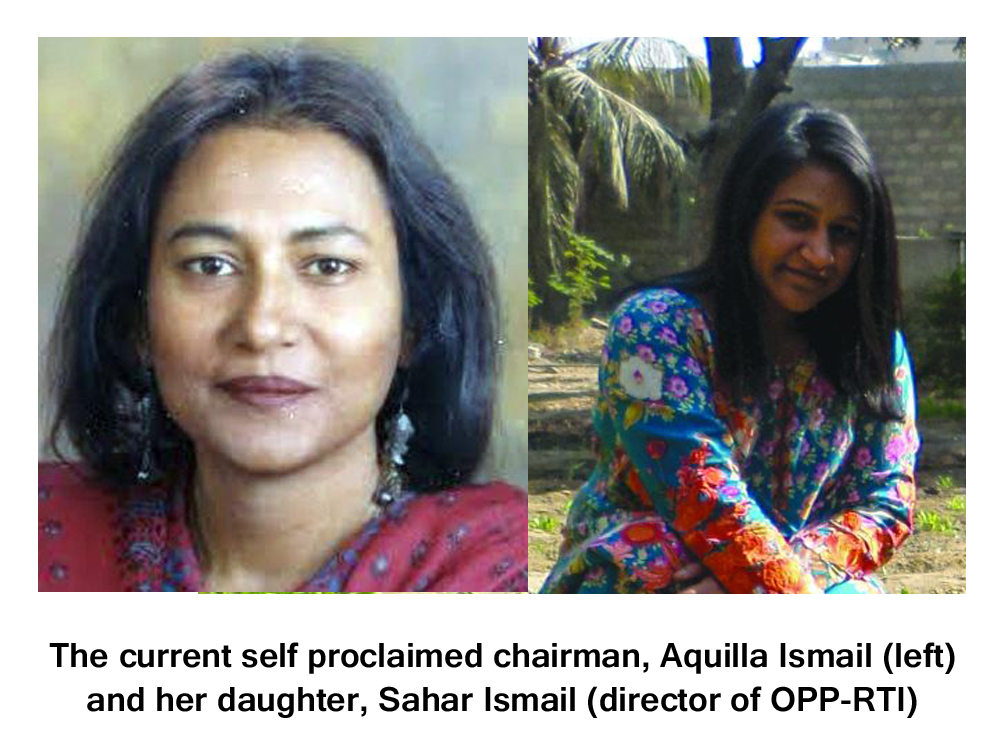 It's a sad state of affair that her organization has been hijacked and torn apart by her very dear and near ones. In the last eight months, the office has been taken over by Perween Rahman's sister, Aquilla Ismail. She calls herself the new chairman of OPP even though no elections have been held among the board members. The hijacking has proved fruitful for her as she has put her daughter, Sahar Ismail in the director's position. As Ms. Ismail took over the position of the director, she raised her salary to Rs. 1,05,000 when Parveen Rehman took home only a meager Rs. 57,000. Mr. Salim Alimuddin who spent a lifetime of service for the organization is just a puppet director in the hands of Aquilla Ismail and has no authority to take decisions.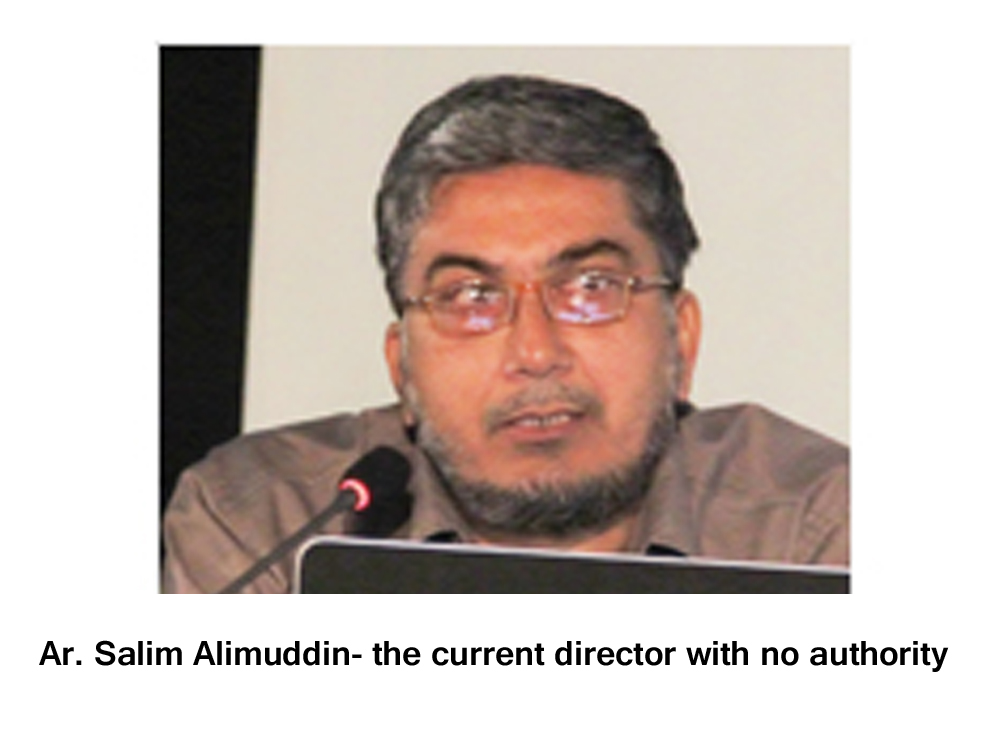 Both Aquilla and Sahar Ismail (the so-called new management) have no clue about the on-going programs at OPP and take major decisions that are ad-hoc and severely damaging for the organization. In order to take decisions for an organization or a program, you need to be well read and thoroughly informed on the subject. This involves going through organizational reports and regularly involving the core team.
But this is severely lacking in the new management. The decisions of the new management are so unclear and vague that even the staff has no idea where they stand or what their job responsibilities are. The new programs being introduced by them are unplanned, unorganized and have no impact of any sort in the community.
At this time, OPP-RTI is literally begging for funding because it is slowly and gradually going bankrupt because of the case, "Justice for Perween Rahman". The only reason OPP or to put it more accurately, Aquilla Ismail needs fund right now is for the case to keep going. The reserve balance of OPP is being spent on the case. Money that comes from donors wanting change in the current situation of Pakistan's low-income settlements, that same money is being used to pay for the transport and lodging of Aquilla and Sahar Ismail during case hearings.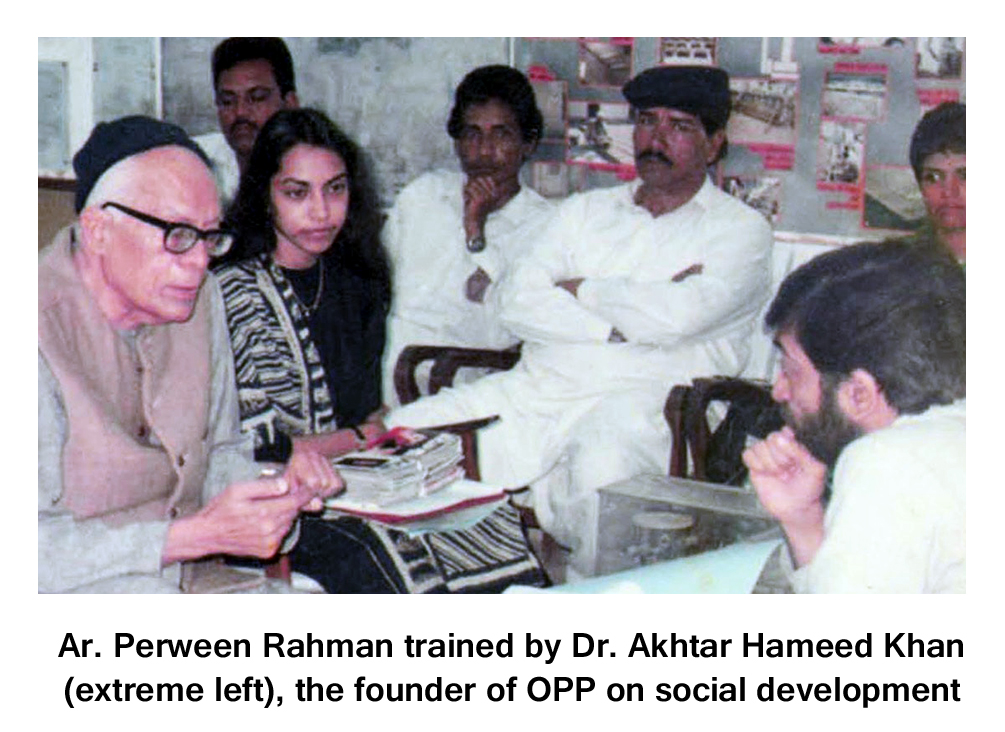 The new leadership has shut down most of the programs labeling them as impact less. I would like to point out here that these were programs initiated by Perween Rahman, herself. Programs like Mapping, Housing, and Education in the various low-income settlements of Karachi.
Moreover, senior employees are being trained to acquire new skill sets. The same employees who have worked in one department for over 20 years are suddenly given different departmental duties. If they choose to raise their voice, they risk being fired. And with this, the employees are being radically moved from one position to another. The librarian suddenly found himself working as an on-site supervisor in the Sanitation program.
The education manager is now the new health researcher. The social organizer working under the sanitation program is now the new manager for the kitchen gardening program (recently initiated). The administration' department's manager is now heading the human resource department. I would have been shocked myself if I were to work as an accountant rather than an architect.
All this sudden and major organizational change brings only one question to light: Was the organization so poorly managed under Parveen Rehman's direction? Or all this is pointing towards a serious lack of understanding and experience in the hands of the new management?
The reason I am writing is to let donors, NGOs, CBOs, academic institutes and social organizations know that NGOs are not inherited; they are earned through your efforts just like the exemplary Perween Rahman. She, with pride, liked to introduce herself as Perween Rahman, director of OPP-RTI- an earned position. She did not need to say daughter of….niece of….sister of…..Perween Rahman was all it took.
What's happening right now is truly saddening. Raising your voice means getting fired; receiving a resignation through email.  Help me share the story. I may be a small voice when compared to the history and reputation of OPP, but I'm a voice that is seeing a great injustice being committed to the organization.