It is seriously an ordeal if you have the least knowledge about cars and need to buy one. Your budget is tight, you simply cannot compromise in terms of quality and driving experience as well as taking minimal risks when buying a used car.
Not every other person has a concrete knowledge about engines or cars' specifications, while a vehicle is one of the most significant needs of life for us. How wonderful could it be if some sort of specialization was done in the same aspect and we could outsource it for our utmost feasibility?
Presenting, OnSpot Inspections – Pakistan's first venture that deals in inspecting any car you wish to buy! With OnSpot Inspections, buying a used car has become absolutely hassle free.
What is the best that OnSpot Inspections can do for you?
Assuming, consumers do not come from a background in what exactly they need to check when buying a used vehicle, they would require expert advice. Everyone can inspect in fundamental terms but the contemporary steps are usually left out and usually, problems occur in the longer-run should you not get the car you plan to buy properly inspected.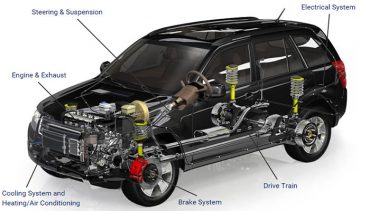 It is extremely important to scrutinize all vehicle specifications before you make the payment. OnSpot Inspections provides you a benchmark service of the same. Vehicle conditions provided by OnSpot entails a state-of-the-art inspection service by the highly qualified inspectors. After a thorough and contemporary inspection, customers are given a green light to proceed.
Imagine the reliability that would begin to appear years from the time you bought your car that was inspected by OnSpot Inspections. Saving you a heap of money and the hassle to visit your mechanic every now and then.
A normal customer experience upon buying a vehicle
You head to the car dealer and he boasts everything good about the car he is selling. But turns out, not everything that was promised actually stood by. You are left with a disappointing experience and your investment backfired. This not only discourages you to ever buy a used car in future but also allows deception to get away without reproach at all.
What are people left to do with then? Not everything can be Googled or you simply cannot run after every bit of detail because it is practically not possible. Buying a used car only to find out problems after problems are looming at large.
Get the vehicle you have been eyeing for weeks inspected by OnSpot Inspections.
What's the difference between a mere inspection and an inspection by OnSpot Inspections?
Simply, the contrast that specialization brings. OnSpot absolutely specializes in vehicle inspection, it is like you outsourced someone to do the job with a top-tier guarantee.
The major difference between it can be measured in terms of knowledge about the intricate details that are not common knowledge. Do you have the knowledge of mechanical parts and the contemporary vehicle terms? You usually resort to an expert to inspect your chosen car for you.

A professional consultation with every client revolutionalizes everything. Confidently generating a used car appraisal harboring all terms of safety, security, and reliability is complicated should you not opt for OnSpot Inspections. A test-drive that you might take might not reveal everything for you. Properly getting the engine, suspension, transmission, instrumentation and technological equipment checked by an expert is mandatory.
Your own inspection or anyone you seeks advice cannot offer you the expert advice that OnSpot Inspections provides. Boasting a qualified and experienced personnel who simply know what to scrutinize in a car in terms of inspection.
Ultimately, why choose OnSpot Inspections?
You get that you need an expert advice. But why OnSpot Inspections should have the claim to offer you the service? It is the only service in Pakistan that provides a 24 hours a day and 7 days a week service. In fact, you do not need to bear the ordeal of having to wait through long and tiring processes because vehicle inspection can be provided on same-day and weekends as well.

Having a 150 Point Check List that ensures the best deal is underway for you. An informed decision under their supervision is what you need because your investment cannot go down the drain. A pre-purchase inspection sets you off for a confident purchasing decision, all kinds of inconveniences lurking due to the substandard parts or systems not known to you can simply be avoided.

OnSpot Inspections' pre-purchase inspection includes a thorough analysis of the exterior, interior features, signs of damages, touch-ups and other imperfections. It also includes engine check, tires inspection, electronics configuration and test drive.
Have you experienced hassle when you were buying a car you so love?
Read Also: KIA Is Returning To Pakistan With New Vehicles And Finally, It's The Welcomed-Change Our Roads Needed!