Saqlain Haider, 32, was arrested on 27th October after he posted what was deemed  to be a sectarian hate speech on Facebook. "The accused has been convicted and fined Rs. 250,000 for his offense," statement by SSP Attaur Rahman of CTD. Saqlain, an average hotel owner in the Chiniot district south of Islamabad, was arrested and fined a heavy sum, for posting his opinions on his own Facebook profile. He did not impose his ideas on anybody; he was not a molana, mufti or anyone with influence on other people. He was just an average man voicing his own opinions. I'm not saying whatever he did was justified. I am saying that rules should should be equal for all. If he is getting punished, others should too… No?
Why is it that the Anti Terrorism Court (ATC) has only found Saqlain guilty uptil now, but people who blatantly monger hate still roam free. Only when a Shia or any other minority groups says something that the people in positions of power don't agree with, they have to pay the ultimate price? When a Shia, Bori or Ismaili express their opinion they are prosecuted for it, whereas everyone else gets off Scot free. Is this not constituted as hate speech? Furthermore, this is not just a post on Facebook, this is a full fledged hate speech that will actually have implications on the people listening to it. However, this man roams around free and has even been acquitted for murder!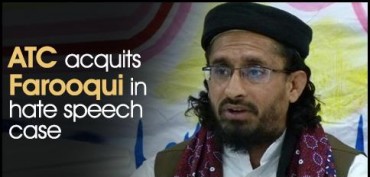 Source: ARY NEWS
Many leaders have been videotaped spreading sectarian hate and promoting violence against Shias. They have designated people who hang by their words and abide by everything they say, yet they still have not been arrested for spreading hate.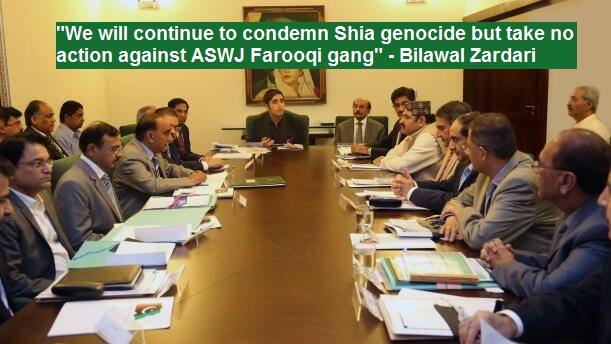 Source: www.lubpak.com
Even people in the government can see the irony of this act, however only a few are willing to speak up about it.
Is this not hate mongering and the promotion of sectarian violence? And if so, why is Saqlain the only one who has to pay for exercising his right to free speech? How is it that these people can get acquitted for murder but Saqlain has to spend 13 years in jail for updating his Facebook status.