LAHORE: OLX Pakistan, the No.1 marketplace for buying and selling products and services, has introduced a new honor-based fee system for free ad posting on its platform. This first-of-its-kind system allows sellers to create a free listing by pledging 1% of their item's sale value to OLX if it is sold through the platform.
OLX has been serving sellers and buyers in Pakistan since 2009 and has helped millions of Pakistanis buy and sell with convenience, with more than 1 million people visiting its platform every day.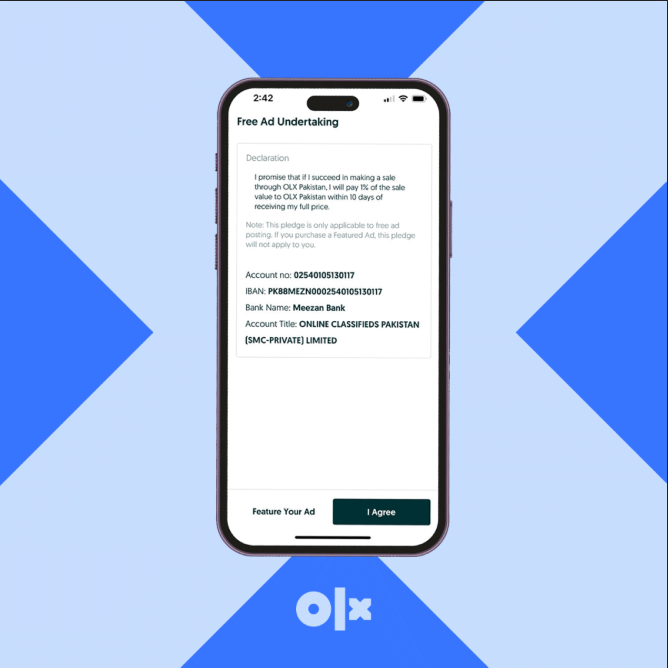 The introduction of the honor-based fee system is another step forward in OLX's commitment to providing a seamless and hassle-free experience for its users. This new feature allows sellers to show their appreciation for the platform's services in the event of a successful sale, and encourage its growth by fulfilling their pledge, which is completely honor-based.
The company said it would continue to provide services to all users regardless of whether they choose to pay the honor-based fee.
About OLX Pakistan
OLX has been operating in Pakistan since 2009 and has been pivotal in developing online marketplaces in Pakistan. In 2020, OLX Pakistan became a part of the classifieds Unicorn company, Dubizzle Group (Formerly EMPG). The platform generates 20 million pageviews a day, with over 6 million app downloads. Over 60,000 conversations take place daily on OLX with an ad being posted every 2 seconds.
About Dubizzle Group (Formerly EMPG)
Dubizzle Group owns and operates bespoke classifieds portals in emerging markets, primarily in the Greater MENA, South Asia, and Southeast Asia regions. The group's flagship ventures include leading brands across multiple countries, such as OLX, Zameen, and Zameen Developments in Pakistan and dubizzle and Bayut in the UAE, among others.