Nottingham Islam, a religious information center, based in the United Kingdom, shocked Muslims in the country and around the world after tweeting a controversial post on Monday. The UK-based Islamic Da'wah Center ended up being trolled on social media. Apparently, it tweeted the wrong picture, accompanied by confusing words, to announce the marriage of a couple.
In the photo shared by Nottingham Islam Information Point on their official Twitter account, two men could be seen standing next to each other and gleaming a small smile at the camera.
"Mabrook, congratulations to John and Zulfikul for getting married earlier this evening. Alhamdulillah, we conducted their Nikah and issued the certificate. May Allah accept their marriage and keep them united throughout their lives…Ameen. Thank you for the wonderful food," the tweet read.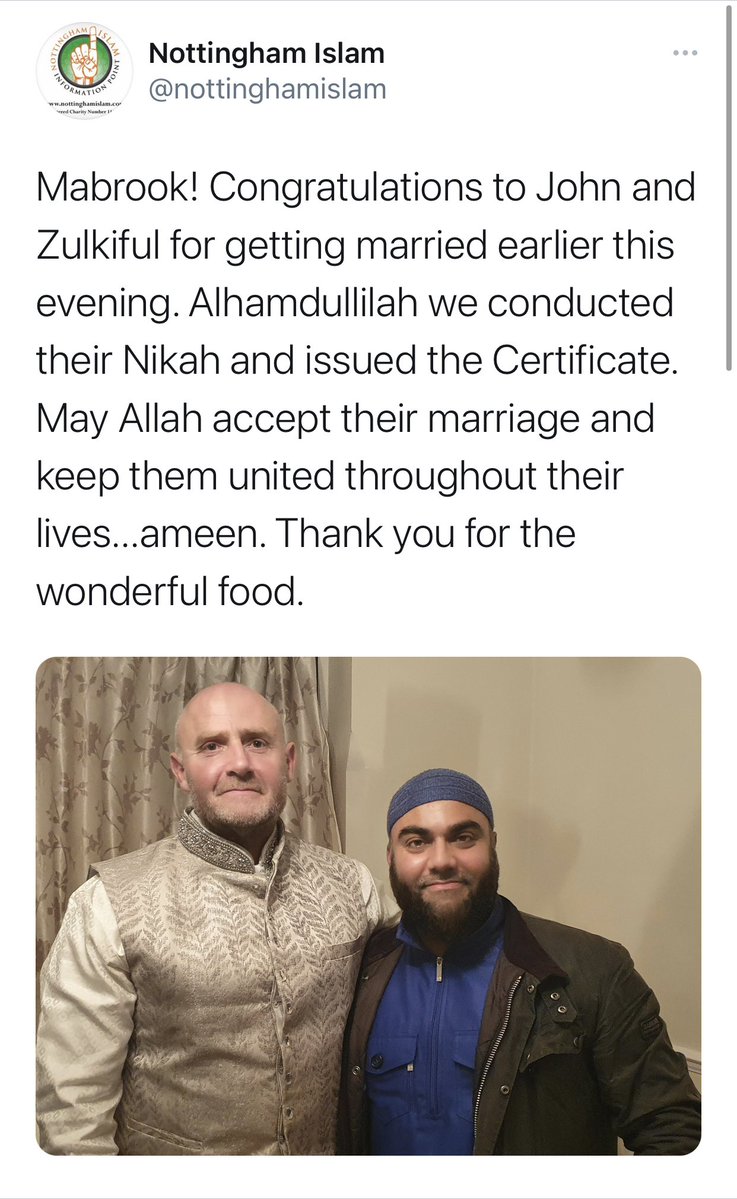 As it appears, the name 'Zulfikul' sounds a bit of a unisex name, thereby, making the social media users presumed the center performed a same-sex marriage. Whereas, it goes without saying that same-sex marriage is strictly forbidden in Islam.
The controversial tweet unleashed a war of words, and confusion among social media users. While some people lashed out at Nottingham Islam Information Point for sharing the confusing tweet, others simply made fun of the center.
The center takes down the tweet
Later, seeing the eruption of debate and skepticism, the center instantaneously deleted the controversial tweet. Subsequent to taking that tweet town, the center first sent several tweets to clarify its position.
It stated that the two men in the picture represent the groom and the Imam who performed the nikkah. In addition to this, the center clarified that sharing women's pictures on social media does not seem appropriate. Hence, they shared the groom and Imam's photo.
Meanwhile, the Twittersphere is having a field day with the slip-up
However, the center's explanation, also fell on some deaf ears as people continued to call the Da'wah Center out for creating confusion. Not only that but also labeled the center as 'homophobic'.
Even though the page deleted the tweet, social media users were quick enough to grab screenshots. More so, within no time, the tweet went viral across the globe.
Keeping aside all the unsolicited criticism, social media users had a good laugh with the confusing tweet. With words so twisted accompanied by the picture, it had many burst into fits of laughter.
Nottingham Islam information point is known to be spreading the message of Islam to Muslims in Nottingham since 1977 and offers services such as Jummah Khutbah, Nikkah, and Walima, New Muslim mentoring, Ghusal and Janaza.
What do you think of this story? Let us know in the comments section below.