One of the biggest festivals is about to begin in a few months and all the teams fighting to qualify for it. This time it's happening in Qatar and the festival known to the world as "FIFA World Cup" where the best international teams compete to win the precious trophy.
As per the record, Brazil has more World Cups than any other team. Last night, final qualifying matches were held in which Italy faced North Macedonia and the outcome was shocking for everyone.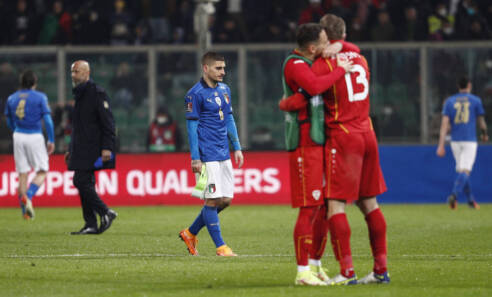 In the 90th added time, Macedonia stunned everyone especially Italy and their fans with the outstanding goal by  Aleksandar Trajkovski.
He was the man who created the biggest upset of 2022 and made history by defeating Italy at home for the first time. Yes! Italy had never lost any game at home, but this time Macedonia broke the streak at last.
North Macedonia defeated Italy and qualified for World Cup
From the beginning, Italy was dominated over the visitors in every way. Even if we look at the stats, it's clear that Italy had more ball possession than Macedonia. Italy made endless chances and tried to score. That's the second time in a year when Italy didn't qualify for the World Cup.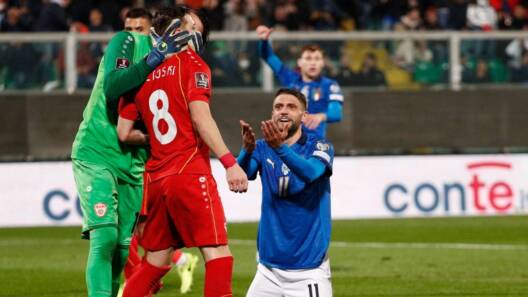 From the beginning of the qualifying rounds, Italy was dominating, and even after winning the Euro Cup last year by defeating England in penalties with making unbeaten history.
But in qualifying last night, everyone was expecting the extra time and then maybe penalties. But unfortunately, Aleksandar wasn't ready to wait and with the brilliant strike, he shocked the whole stadium.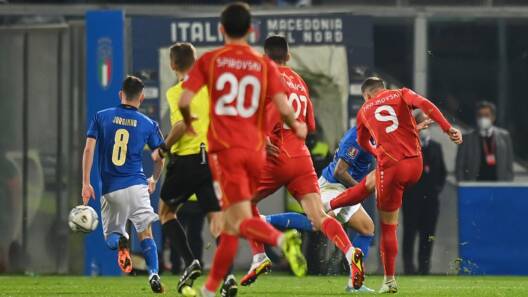 North Macedonia's fans or say the whole crowd went crazy and it was chaos in the stadium that cannot be explained in words. Because one side team was up in the sky after knocking out Italy in the qualifying round.
North Macedonia needs to be prepared for the next match where they will be facing Portugal who also got one last chance, especially important for Ronaldo as it's going to be his last World Cup.
Portugal might have qualified, but due to some goal controversy as there was no VAR to confirm Ronaldo's crucial goal.
Blagoja Milevski shares the moment with the fans
North of Macedonia manager Blagoja Milevski couldn't resist expressing his happiness in winning over the most famous teams in the World Cup qualifying. He said, "We won Italian style against the Italians, a goal from just two shots," he said.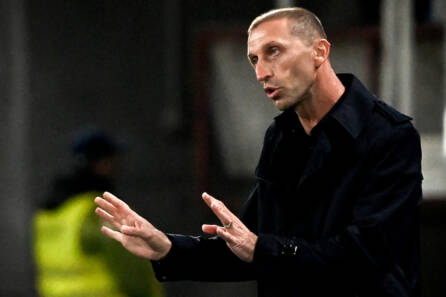 "I'm very happy for this victory, I'm proud of these guys. All energy from tomorrow will be in Portugal.
"I am very happy for Trajkovski with his goal. The game was prepared in this way, we know that Italy is a great team with several champions but we played as we should.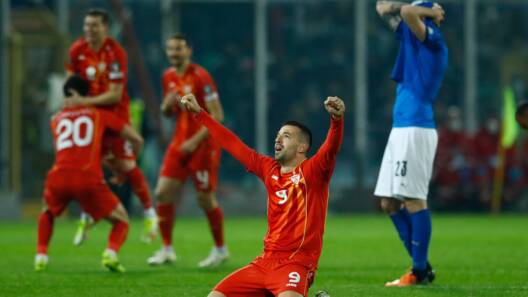 "We know our strengths. Before the game, I told the guys to have fun and they did just that."
"We had two shots and won the game. We won like Italians against the Italians," said Blagoja Milevski.
'I'm responsible' – Roberto Mancini
Meanwhile, on the other side, Roberto Mancini won the Euro and also made history by leading Manchester City's first Premier League title as well. "Just like July was the best thing to happen to me in my career, this is my biggest disappointment… I'm really sad for my players," Mancini told RAI.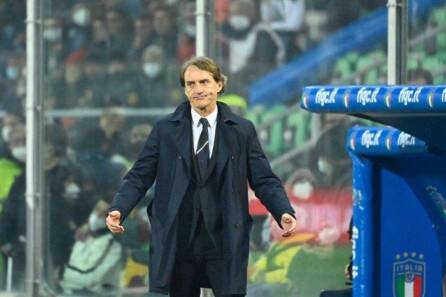 "The disappointment is too much for me to speak about my future for now."
"It's difficult to talk about a match in which we had 40 shots and they had one or two," Mancini told reporters later.
"I m the coach, when in football things go wrong it s the coach s fault, so I am responsible."
"Last July (winning Euro 2020) was the best thing I experienced at a professional level, this is the biggest disappointment.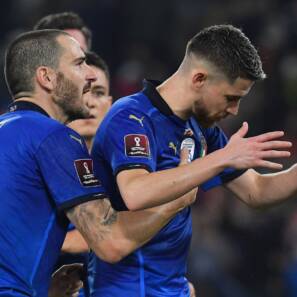 "Unfortunately, this is football, incredible things happen in football, certain matches are like this, we have had so many opportunities. From the European Championship onwards, perhaps the luck that accompanied us turned into bad luck, now we need to know how to suffer.
"It is difficult to comment on this match, with a goal that arrived after the 90th minute without conceding anything else. This is a group with great players and I'm sorry because we didn't deserve it."
Even the players have expressed, "It is a huge disappointment," the Italy midfielder Jorginho said. "It hurts, it hurts so much. We have always created and dominated matches but we have not been able to finish teams off. It is not to blame anyone in particular but it is the reality.
"I don't know why we haven't been able to do this, I am also involved in this, and it hurts me to think about it." Macedonia in the initial qualifying round made first big upset, when they had beaten Germany and stunned everyone in the football world.
What do you think of the story? Tell us in the comments section below.