Yes, you read it right! The legend is back! Nokia will relaunch one of its most loved and most resilient phones in the history of mobile phones, Nokia 3310. Remember those times when you or your parents bought one splendid, sleek and stylish – during that time of course, durable than concrete, reliable and the enigma of fun? Yep, that was Nokia 3310.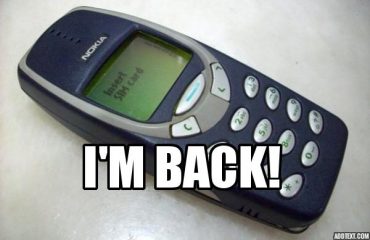 It was a formidable piece of machinery and it is safe to say that it used to be the KING of mobile phones back in time is reflected upon as a legend of our times.
According to various resources, the legendary Nokia 3310 will be revealed at Mobile World Congress later on this February.
WHAT A TIME TO BE ALIVE!
Let us give a tribute to the legend. Let us recall the times and what followed in the aftermath of Nokia 3310.
There are countless memes, jokes, outrageous experiments involving the phone against hazards like a straight drop from 70 feet and what not…
Here is how the Nokia 3310 was a special part of our lives:
 NOKIA 3310 > CONCRETE
BATTERY POWER: INFINITE mAh
POSSIBLY YES!
These memes perfectly portray what an amazing phone it was! I bet no phone can ever be durable and reliable than it.
AND NEVER FORGET THIS:
SUCH A REVELATION
I am sure who ever came across this news is very happy. It is such a euphoric realization. The manufacturer is really playing the cards now.
The news is going viral all over social media. It is a major news in the world of technology and we love it because we downright reflect upon our long-lost relationship with this phone.
In fact, this news came out on Valentine's day which makes it a perfect love story!
I am already craving to play Snake once again. Somebody get me a phone that has that game!
What are your thoughts about the return of Nokia 3310?
Read Also: Nokia Just Unveiled The New Version Of 3310 And People Are Going Crazy For It