Imran Khan finally reached the US for his three-day visit and will be meeting Trump on Monday. He flew in a commercial Qatar Airways flight and as decided before by the Prime Minister, he is staying at the Pakistani Ambassador to the US, Asad Majeed Khan's residence.
Imran Khan received a warm welcome by nearly 30,000 Pakistani-Americans, as they gathered in hot weather at a community meeting of overseas Pakistanis on Sunday. Capital One Arena in Washington DC was completely filled by Imran Khan's admirers and supporters. It was a sight to behold. Such love, respect, and admiration for one man truly speak volumes of his credibility as a leader of Pakistan.
Full House – A Day To Be Remembered; A Grand Welcome. 
#HappeningNow: Prime Minister of Pakistan Imran Khan addressing overseas Pakistanis at the Capital One Arena DC #PMIKJalsaInUSA pic.twitter.com/pKymIf7CAk

— Faisal Javed Khan (@FaisalJavedKhan) July 21, 2019
It wasn't just the attendees that were listening in to what Imran Khan had to say to them, but all across the US and the world was anxiously waiting for his arrival and speech. This is the respect he holds and it demonstrated itself through people. So much so, that his jalsa came at the top in Worldwide trends on Twitter.
Pakistanis across the world,you are creating global waves today as the jalsa in DC takes the top spot in the worldwide trends. If there was any question on this before, hello world; Prime Minister Imran Khan and Pakistan have ARRIVED! Keep sharing your sentiments! #PMIKJalsaInUSA pic.twitter.com/n7m4PHOgy4

— PTI (@PTIofficial) July 21, 2019
The event's live-stream was watched by millions of people and this was definitely a big moment for Pakistan considering the last visit to the US of a Pakistani Prime Minister was many years ago. Imran Khan delivered a very informative speech that laid his plans and visions for 'Naya Pakistan' including his unshakable resolve to bring justice in Pakistan by ending corruption on all levels establishing a system of merit.
InshAllah this is our vision for Pakistan. Merit & Equality for all! Even Pakistan cricket team is an example of lack of merit in our systems. But I promise you I will also change Pakistan cricket system; there have been enough disappointments :: @ImranKhanPTI #PMIKJalsaInUSA pic.twitter.com/L4T6ayvUhl

— PTI (@PTIofficial) July 21, 2019
"The countries which have progressed with time believed on pure merit," said, Imran. He continued on stressing on the negative implications of kingship that took over Pakistan. He added, "Nawaz Sharif becoming a leader was only because of the military dictatorship, no merit. Shehbaz Sharif became the Chief Minister because Nawaz Sharif was the Prime Minister, pure king rule. Asif Ali Zardari and Bilawal Bhutto Zardari became leaders because of the sympathy votes after Mohtarma Benazir Bhutto died."
Read Also: President Donald Trump And PM Imran Khan Will Be Having Two Meetings Soon!
In His Ending Speech, He Stressed On The Accumulated Debt That Mounted Due To Former Governments' Corruptions And Continued To Mention Nawaz Sharif's Entitlement Troubles. 
Today Pakistan's debt stands at 30,000 billion. In 60 years Pakistan's debt was at 6000 billion. And in the last 10 years it has climbed to 30,000 billion. Where did this money go? This is the money we will bring back from them :: @ImranKhanPTI #PMIKJalsaInUSA pic.twitter.com/FlWGYLKbTC

— PTI (@PTIofficial) July 21, 2019
Adding humor to the much important issue at hand faced by the PTI government, the premier reminded everyone how the corrupt politicians and political parties who would cut each other's throats at any given opportunity have combined forces to save the looted money that has added to their current wealth.
Imran Khan confidently in front of the massive crowd, said that he would gladly provide the corrupt and criminals a container to hold their speeches for their jalsas from.  later humoring how their so-called supporters wouldn't even come out for them until bribed by 'keemay-walay-naan'. 
"They Will Have To Return The Money At Any Cost", Said Imran Khan. 
Coming to Nawaz Sharif, "Nawaz Sharif wants food from home in jail, he wants air conditioning in jail. But in a country where half the population has no air conditioning or tv, what kind of punishment would this be?"
What He Vowed Next, Made The Crowd Cheer Louder.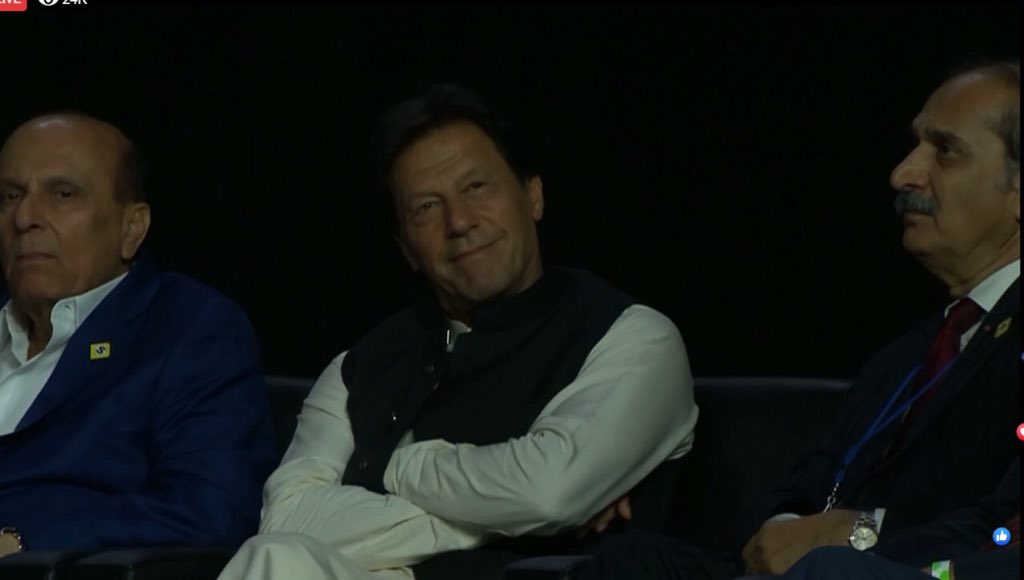 "I am going to go back and make sure there is no air conditioning or no tv for Nawaz Sharif who is a criminal. I know (PML-N leader) Maryam Bibi will make some noise, but I say to her, return the money. It's as simple as that", he said.
"I am looking at Zardari as well, as soon as he is jailed he gets himself admitted to the hospital and spends the entire time there. He too will be sent to jail with no air conditioning or Television."
He doesn't stop there and mentions Shahid Khaqan Abbasi's arrest, "He kept shouting if I have committed a crime, arrest me and put me in jail and so we did."
Fazal-ur-Rehman was next and Imran Khan talked about Maulana's statements where he questioned that the opposition will gather together when they are all in jail? To which PM replied, yes you all will gather in jail.
"This Is The Change, There Was No Accountability In Pakistan Before But Things Will Change, Now Our People Will Rise And Pakistan Will Become A Great Nation, Insha'Allah"
He left no stone unturned and gave hope to every Pakistani listening that day of a future that only looks bright and just.
Such a huge and heartwarming thank you to overseas Pakistanis in the US for being there. For those world over for joining in on the trend. For the volunteers and activists world over for making it happen. Tomorrow, we go again. Thank you ALL! #PMIKJalsaInUSA pic.twitter.com/tT9RWew4jS

— PTI (@PTIofficial) July 22, 2019
Did you tune in as well? Let us know what was the best part of his speech in the comments below!