In the age of the internet, everybody is following everybody and things get public very easily. Plus the enormous amount of time we spend stuck to our phones in this day and time of social media, has influenced many into becoming celebs. Nasir Khan Jan is one famous dude over the internet. He is a social media celebrity with a big fan following. And what's best is either you love him or hate him NKJ doesn't really care. He's so proud and unapologetically full of himself. Social media loves him for his confidence, that "Badnaam Jo Hojayenge kya Naam Na Hoga" attitude and, the super cool way he trolls his haters.
NKJ has become the king of trolls on Twitter
He does look like a soft target but he has proven it time and again that he is not. Anyone trying to outsmart him gets a savage comeback. So here's what happened. The iPhone 11 launch triggered NKJ too, and he posted this innocent question on his twitter handle. "Guys I want to gift Iphone11 to my GF. Kindly tell me where can I buy it at a discounted price?"
Yeh bnda aur is ky replies🔥🔥😂😂😂😂.
Trolling King hai Nkj🔥😂@NKJModel pic.twitter.com/E7JMsSZuLh

— Homo Sapien🥀 (@InsaneGirlxD) September 14, 2019
What followed is quite predictable for us nosy Pakistanis. People started trolling him for his sexual orientation, his financial status, and whatnot. This one guy posted a sexist comment asking him if the GF is a trans too? And imagine the reply. Nasir Khan Jan replied sorry I can't tell you because my girlfriend told me not to tell his brother. OOOOPS somebody needs aloe vera.
And this is not the first time that he has trolled a troll, Nasir Khan Jan has trolled social media users before as well.
The quick-witted comeback got viral quickly. And NKJ being NKJ basking in the glory, retweeted people praising his savage comeback.  Now whose looking funny, hater???
And the internet loved him…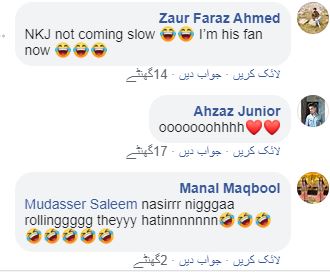 Check out this one time, when a model Rabia Butt tried to troll Nasir Khan Jan on Twitter but it backfired really badly!
She ended up saying it was all in good humor and just a friendly joke, but we all know what triggered that friendliness in her. Go NKJ
Ap bus confidence Check Karyn Bhai ka, How do you do this man?
#iPhone11 increased 40% more Sale because of this pic #AppleEvent https://t.co/qB7B4sxd5q

— Nasir Khan Jan (@NKJModel) September 12, 2019
So, guys, do you adore him for his savage comebacks? Share your favorite Nasir Khan Jan savage reply with us.