Another milestone for the Pakistani actress who has won three major awards at the UK Asian Film Festival and she's none other than Nimra Bucha.
Nimra over the past few years has proved herself to be the most prominent figure in the industry and landed herself in the world of stardom with her pure acting.
To express her joyous moment, she took to her Instagram account where she posted a heartfelt note. Nimra has attracted everyone with her acting skills, her recent projects have created a great impact globally such as Polite Society, Kamli, and Ms. Marvel.
She shared an image featuring herself alongside three prestigious accolades representing each of these projects.
Nimra Bucha Wins Big Awards At UK Asian Film Festival
Nimra Bucha expressed her disbelief and gratitude, stating, "Unreal. Grateful. Thank you to UK Asian Film Festival for recognizing the amazing Kamli, Polite Society, Ms. Marvel, and the fantastic projects I've been part of. Lucky lucky lucky to be part of it. Kamli won the Film Curator's Choice Award. Polite Society won the Film Wallahs Choice Award. I got one too." Bucha received the TOF Flame Award for Championing Change.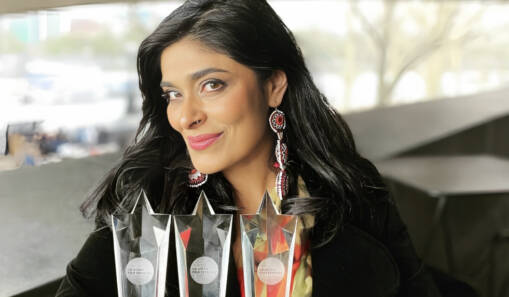 Soon after she posted, her fans and fellow actors stormed toward the comment section. They congratulated her and showed their support for her. They even exhibited their admiration towards her work and versatile acting skills.
Fans & Fellow Actors Congratulated Nimra
"MashAllah," wrote actors Nadia Afgan and Yasra Rizvi. Author Kamila Shamsie also extended her good wishes. "Yay! And Mubarak! (Congratulations)" penned the renowned writer.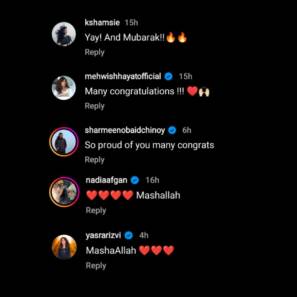 Director Sharmeen Obaid Chinoy also congratulated Bucha, stating, "So proud of you. Many congrats." Actor Mehwish Hayat also wrote, "Many congratulations!"
Nimra Bucha's consistency landed her in these projects and she received endless love from foreign critics.
What do you think of the story? Tell us in the comments section below.