Pakistan's latest social media sensation Nimra Ali touched hearts all across the country with her positive energy. She made headlines after a video went viral in which she is candid yet adorable way expressed her excitement over being featured on TV. But has Nimra Ali now gone from being cute to being super annoying with what people calling as her overacting skills?
While being completely in awe of her confidence and wholesome nature, netizens celebrated the young girl with her name trending on Twitter for a while. In addition to this, with all the attention she received in the last few days, Nimra was recently featured on a talk show that aired on a local channel. Once again, she dazzled the audience.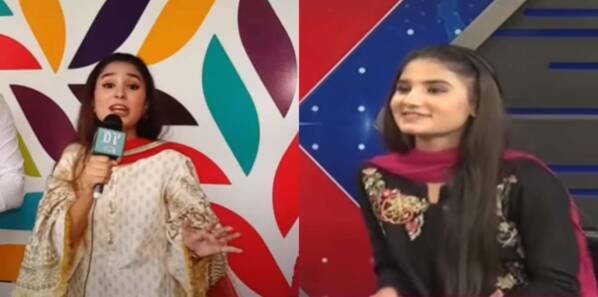 However, during a talk show segment, the young girl went onto say something which did not go well with the members of the Hindu community. A social media user pointed out how this social media sensation insensitively joked about the Hindu gods.
According to this critic, even though Nimra is just a kid, the anchors should have at least corrected her. Instead, they seem to rather enjoy her 'jingoistic remark', and can be seen clapping.
At first, people were really loving her energy and found her to be one of the happiest, full of energy, and hilarious girls. However, it was just a matter of time that she began getting on our nerves. It was definitely mesmerizing to see someone so innocent and purely happy. But now, the genuine vibes appear to have gone.
From being cheerful to being annoying? That escalated quickly!
Let us all admit that Nimra's first video was absolutely natural and we all enjoyed it. In fact, we all low key wished to be as lively as her! But now, all these TV channels approaching her for staged shows it nothing but a cringefest.
Well, kudos to all the overnight fame from the unnecessary social media hullabaloo- this girl has now lost all her charm and cuteness in just a day. Wait, do not get us wrong here. We too were all smitten by her candidness, but now we agree with what our fellow Netizens have to say about her.
Nimra Ali once again trends on Twitter but this time for all the wrong reasons. People now find Nimra Ali rather annoying than funny with her overacting skills. The Twittersphere believes that fame has gotten to this social media sensation and now she is just overplaying it.
Pakistanis calling her 'overacting ki dukaan'
A call recording leaked where Nimra allegedly asks a channel to pay her for having her on their show
Some blame the media for giving her too much importance
Nimra Ali wants to be a model now?
Many people also called her out for making ignorant remarks that hurt the sentiments of the Hindu community. However, the viral girl later realized her mistake and issued an apology.
Not only did she apologize but also explained what she was exactly trying to do. Apparently, she was trying to copy a TV character.
Earlier, Nimra revealed how she always wanted to be on the television. Seems like her wish is finally coming true. However, she needs to watch her steps. Social media gives you fame quickly but it also brings you down in no time.
What do you think of this story? Let us know in the comments section below.