So how many of you remember the Lahori girl Nimra Ali who became viral a few days back? Well, guess what? The social media sensation is back to make you smile with yet another supercharged interview where we also get to see Nimra Ali singing!
Last week, a video of a reporter of a local news channel interviewing Ali effortlessly become viral. In fact, so much so that the hashtag #Nimra began trending on Twitter. But wait… she is once again trending on Twitter! People all over Twitter are delighted to see her yet again.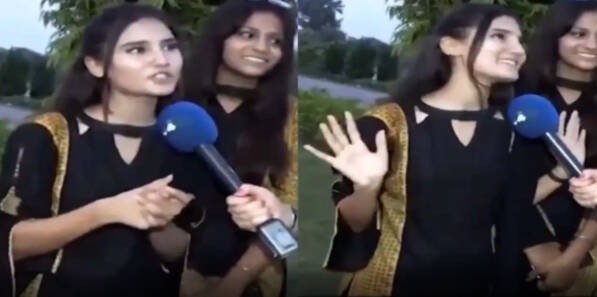 The social media sensation Nimra Ali did not waste any more time to show how natural she is in front of the camera, who is back again to make you smile. Being her joyful self, Ali made a fun-filled appearance on a morning show for a local news channel. Moreover, Pakistanis are delighted to see a girl, full of life, going viral on social media.
You will be surprised to see how much this girl has to talk about. We are absolutely loving her energy! In the show, the host asked her to show her singing skills. The social media sensation sang the song of Hania Amir's hit drama serial Anaa. Oh, such a beautiful voice! Well, why don't you listen to her singing yourself and enjoy it?
People are absolutely loving her energy, and so are we! This Lahori girl is certainly like no other. One of the happiest, full of energy, delightful, energetic, and hilarious girl we have ever come across!
So much energy much wow!
Not only did she appear in the morning show but she was also interviewed by Yasir Shami from Daily Pakistan. In her video from that interview going viral, Ali said, "I do not just go crazy and talk this much when I see the camera. I am always like this. Even in my house, around my family, I am this hyped up and talkative. So whoever thinks I lose my mind after seeing the camera, no that is not the case."
The happy-dappy, unstoppable Ali has once again made people fall in love with her energy. Needless to say, it is absolutely mesmerizing to see someone so innocent and purely happy. We all high key wish to be just like her.
Aren't you all just loving her vibe? Such a high-spirited girl, full of vim and vigor!
Here's what the Twitterati's have to say
Wow, she has definitely fans!
This one really cracked us up!
We couldn't agree more with this one… Seeing someone this lively is very rare
Well, well, well, this girl has definitely proven that girls from Karachi can never beat Lahori girls. Did you see her last viral video with her cousin last week?
Such an innocent soul. Don't we all want to as energetic and full of life like her? May this ray of sunshine always be this happy and lively! ALSO, don't forget to say MashAllah.
What do you think of this story? Let us know in the comments section below.