A couple in Pakistan who decided to get married on a video call has proven that love prevails even when the world is dealing with a pandemic. After all, modern problems require modern solutions.
A video clip of a nikkah taking place via video calling is making rounds on social media. Amid the novel coronavirus outbreak, people have been asked to avoid large public gatherings and not to leave their homes. As for this couple, during the travel restrictions amid lockdown, this couple found an innovative way to get married.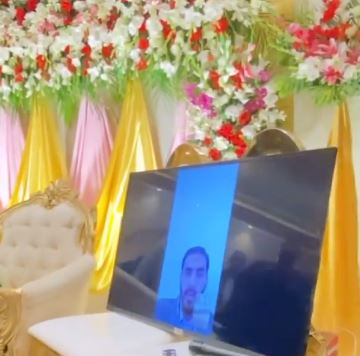 In the video, two couples can be seen getting married. According to the details, two sisters tied the knot on the same day. While one sister had her nikkah in person, the other one had it via video call while she sits on the stage and the husband joins the ceremony online. The video starts with the nikkahkhwan reading verses.
As it appears, the wedding took place in a hall. We suppose, amid the coronavirus chaos, the groom must not have been able to find a flight for himself. Nonetheless, it did not stop him from tying the knot with his bride-to-be. They did not change their wedding plan and found another way to arrange the wedding ceremony via video conferencing.
Yes, you read it right! Through video call, both groom and bride said 'qubool hai' in the presence of qazi and other family members of both sides. The videos of their wedding ceremony were shared by their photographer on Instagram. More so, the caption read, "Have you ever seen an online nikkah before?"
Here are the video clips – Enjoy!
Talk about modern problems requiring modern solutions!
Without any shred of a doubt, the nationwide lockdown might have brought life to a standstill in many ways. But there are people who are going ahead with their plans.
It is a brilliant idea though, don't you think? To get married with a little help from technology. That too, without breaking social distancing rules – given that you do it at your house, and of course, with only a few close loved ones.
Recently, yet another Pakistani couple just set an example for many. No mayoun, dholki, mehndi, or even baraat. Just a simple nikkah. Prior to that, another couple tied the knot in a simple lockdown wedding at home, and it was beautiful! We extend our best wishes to this newly wed couple and happy married life ahead!
What do you think of this story? Let us know in the comments section below.