Nusrat Fateh Ali Khan was not just a human who was a legend – he was an experience, he was magic. The kind of magic not everyone can experience but only those who actually want to and try to. And once they do, it's really hard to let go of that.
Well, it can be said that there are NFAK muggles too, who don't like him but let's just ignore them – not everyone is lucky.  Jeff Buckley called him his Elvis and a god, Shekhar Kapur said that he was the closest to God while working with NFAK and I agree.
Now before any of you tries to act smart, WE KNOW NFAK DIDN'T WRITE HIS OWN QAWWALIS. But who would have known Bulleh Shah, Amir Khusro or any other poet so closely if it wasn't for NFAK?
So NFAK has taught me a lot of things about life. From how to deal with breakups, to religion, to accepting differences. How to drink and chill, and how to score girls and appreciate them and flatter them with compliments, he's done it all, but more so, he's had a silver tongue and a way with words.
Here are some of his greatest taunts!
1. "Main tou is wastay chup hoon k tamasha na banay tu samajhta hai mujhe tujh se gila kuch bhi nahi." 
So this is one of the best shairs to have ever come out of Nusrat's mouth and this is so deep that you can drown the Titanic in it.
2. "Itni qasmain na khao ghabra kar jao hum aitbaar karte hain"
When they're lying but you know it.
When Nusrat taught me not bring ego in between
1. "Ab bhi aajao kuch nahi bigraa, ab bhi hum intezaar karte hain."

Yes. If you love them, give them another chance. Kill your ego, accept them and sort it out.
2. "Bhool hojati hai yunh tehsh main aya na karo, faaslay khatam karo baat barhaya na karo!"
Please understand this. Please. Things go wrong but you shouldn't drag it out.
His lessons will never be forgotten
1. "Jay tu rabb nu manaana pehle yaar nu manaa rabb mann jaanda yaar nu manaana aukha ay"

Make sure that the love of your life isn't mad at you. God will understand but she won't.
2. "Hazaaron tamannayen hoti hain dil main humari tou bas ek tamanna yehi hai
Humain ik dafa apna keh k pukaro, bas iske siwa koi hasrat nahi hai"
Be sincere. Love your better half to death.
When he taught me that things don't always work out- and that's okay
1. "Woh tere naseeb ki baarishain, kisi aur chatt pe baras gayeen
Dil e bekhabar meri baat sun, usay bhool ja"
Lets accept the fact and move on. No point crying
2. "Main kisi k dast e talabb main hun
Tou kisi k harf e dua main hun
Main naseeb hun kisi aur ka mujhe maangta koi aur hai"
If not them, someone else. Always.
He showed me how to accept differences
1. "Muslmaan saaran to'n darday
Hindu darday gor
Dowain aisay de wich larday eho dohaan de khor"
The Muslims are afraid of fire
And the Hindus dread the grave
Both of them have their fears
And keep on sharpening their staves.
Whom shall I tell?
What's the point of being intolerant?
God exists. Inside your heart
1. "Tujhe dair o haram main mene dhoonda tu nahi milta
Magar tashreef farmaan tujh ko apne dil main dekha hai!"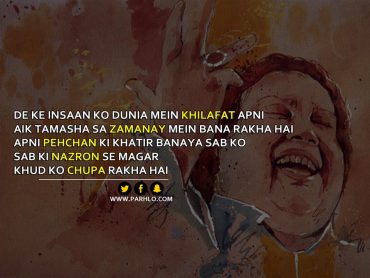 Don't complicate things. Change within
1. "Aiwin roz shaitaan naal larda, kadi nafs apne naal lareya ee nai"
There is no shia sunni, only those who have Ali as their maula.
1. Ali imaam e manasto manam ghulam e Ali hazar jaan e girami fida e naam e Ali.
So basically Nusrat for me is not just a singer. He is my way of life. He brought me closer to myself, my God and showed me what it really means to love when he said "Pyaar agar ho bhi jaye kisi ko, uska izhaar karna mana hai."
And this is what Michael Brook has to say about Nusrat
"It's like you have The Beatles, Frank Sinatra and Elvis, all in one person."

Even though it's been 19 years since he passed away, his words have no time limit. RIP, Nusrat Fateh Ali Khan Sahab. You are still changing this world for the better, one day at a time.