The University of Lahore (UoL) administration on Friday expelled a couple whose public proposal recently went viral on social media. A new video has come to the limelight and it looks like the two are not really happy with their proposal video going viral.
A short video clip of a girl going down on her knee with a bouquet in her hands to propose to her beau took the Internet by storm. It spread like a wildfire with the social media users enjoying it until it reached the university administration.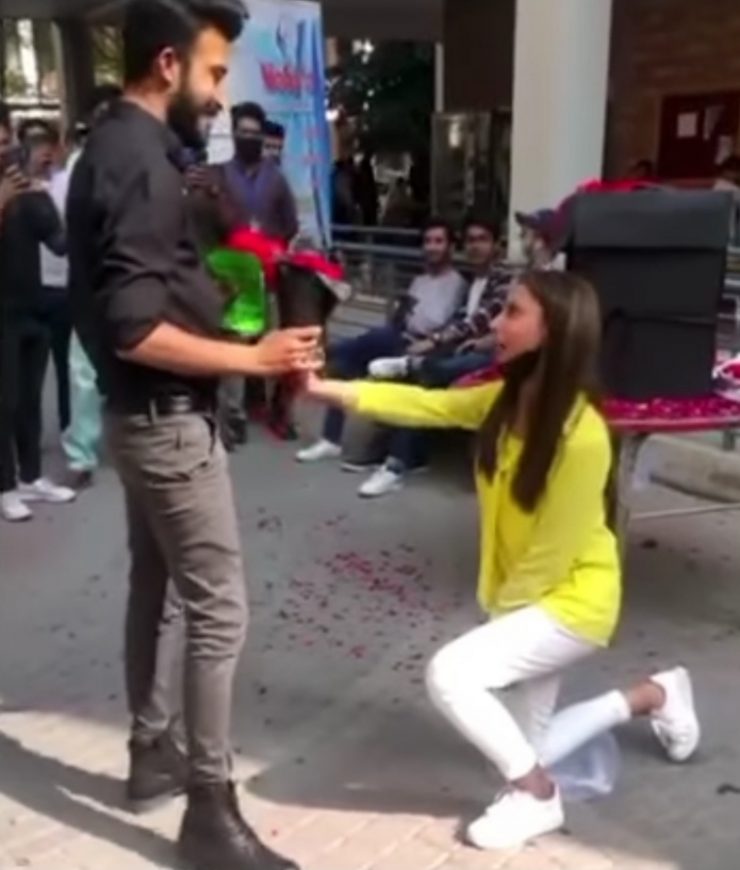 In the video, the girl says something to the guy. Although her voice gets drowned in the cheering crowd gushing over the lovebirds, the next thing we see is the couple in each others' arms and the video ends. In a shocking turn of events, the video landed the two lovebirds in hot water.
Abruptly acting on the video going viral, the institute took a stern action against the duo. The university on Friday released an official notice, and made the decision to expel both the students from the university. More so, debarred them from entering the premises of the university.
"These are just children. Unaware of many worries of life. It is true that they should have avoided social stigma in view of their culture and civilization. But expelling them from the university is not the solution. Give them a small punishment. Getting an education is a fundamental right," Shahbaz Gill tweeted.
Well, a new video has come to the surface in which the couple can be seen talking about their viral video. Their reaction is certainly not what one would have expected.
Check out the couple's reaction!
Uh-oh! Looks like the two were not expecting their proposal video to spread like a wildfire all over the Internet.
Moreover, the girl took it to her alleged Twitter account to clarify that it was not a 'publicity stunt'. In addition to this, she thanked everyone for their support and kind words.
The Internet is a crowded and busy place flooding us with information every second of every day. We have all become a small wheel in the complex machinery that turns a simple piece of content into a viral one. The same happened with this proposal video.
Many feel bad for the couple and criticize the university for expelling them. The stern action taken by UoL is simply shocking. Last time, it was a university in Karachi that began catching couples on campus and expelling them. 
What do you think of this story? Let us know in the comments section below.