Festivities were on its peak with Eid and Independence Day break and amidst it all, Gala released its new rendition of their original anthem. It was full of vivacious colors, richness of cultures, creating a whirlwind of positivity. This video launched nationwide, making waves on TV, digital and radio and it has surely warmed our hearts! 
The video further touched important topics such as inclusivity where they took on board two transgenders, namely Naghma and Lucky. To see them beyond their stereotypes and be accepting of an individual for who they are or how they were born is surely a sign of positivity and progress.
Looking past the differences and be more accepting of the cultures that prevail in our country is an art and Gala through this video explained it effortlessly. Through this initiative, the true meaning of inclusivity, diversity and the love that the people of this nation have to offer was brought up front.
A completely brand new has been given to Gala Biscuits with this new anthem. In addition, maintaining quality and standard till date makes it the most loved biscuit of Pakistan and lives up to the name of being regarded as 'Des ka biscuit'.
The song was sung by the maestro himself ShafqatAmanat Ali along with Akhtar ChanalZehri, Humaira Arshad, TufailSanjrani, ZeekAfridi, Lucky and Naghma with each individual representing each culture: Sindhi, Punjabi, Pathan, Balochi, Siraiki, and Memon.
In addition, beautiful and vibrant giveaway packages were sent across to influencers which had Gala biscuit packed up in a cylindrical box with a representation of each culture from Pakistan. Re-usable boxes and a whole stock of delicious Gala biscuits. Two good things happening in the same equation was a total win-win situation for us. This wasn't it, we saw celebrities getting hooked to the catchy tune of Gala anthem and made fun TikTok videos which included, ZhalaySarhadi and Sana Fakhar. You have to check out the videos!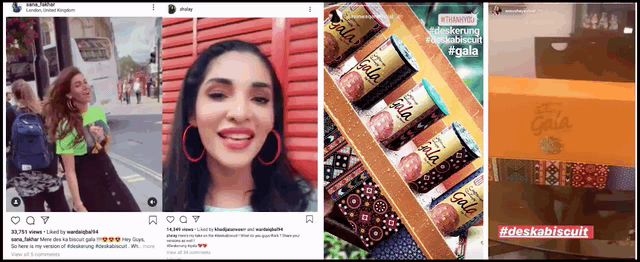 The pride of being a Pakistani is celebrated in a lively manner and that's what got us stuck to the screen watching this video by Gala. The visuals speak volume and it restores our faith in togetherness and oneness, holding an identity. Here is to wishing prosperity and practicing togetherness for the love of Pakistan!
What do you think of this rendition? Let us know in the comments below!