The Kasur child abuse scandal came to light in August last year, with media reporting that around 400 sexual-abuse videos of 280 victims were made by the gang in Husain Khanwala, Kasur. The news shocked the country and challenged the integrity of "Islamic" Republic of Pakistan. It was indeed a time of great shame, where all the country could do was hang their heads in despair. Yet at that time, a belief was formed that our government would never let anything like this ever go unnoticed again.
However… Less than a year later we are tormented with the notion that history is repeating itself!
In the area of Mingora (Swat) local police have arrested a key member of the gang allegedly involved in a child sex and pornography case. The unearthing of the case has fueled a gigantic public outcry with civil society groups and common citizens pleading with the government and police to take strict action against the perpetrators and stop this evil for good!
The gang operated in Swat. After kidnapping children and holding them in underground cells, the gang forced the kids to have sex with them while being filmed.
The police arrested suspected gang member, Aurangzeb, on a tip-off provided by a 13-year-old boy, who had been in group's captivity since 2014, and was set free recently due to the raid that took place.
Police involvement is also suspected in this case
The boy who was recovered, claimed that some policemen were also a part of this heinous crime.
"One day a policeman informed Aurangzeb about a possible police raid, on which the two facilitators took me in a vehicle to Barikot and threw me out there."
We cannot tolerate this anymore!
We Want Justice, We Want Accountability, We Want Action, We Want Criminals To Be Punished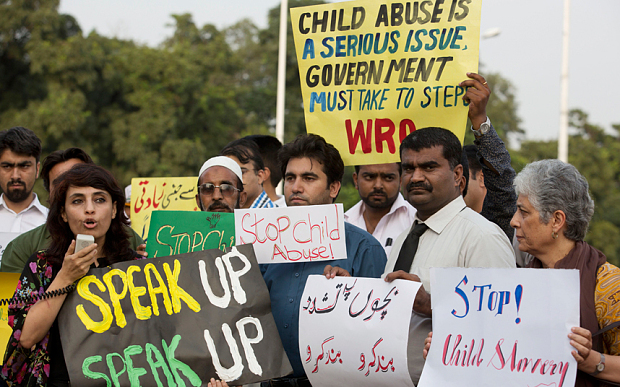 This is not the time to keep our lips sealed. This situation demands actions, because if we tolerate this… our children might be next (God forbid)!