It may have escaped your notice, but Aamir Liaquat Hussain – an MNA, televangelist, meme-inspirer, poet, and so much more – met Prime Minister Imran Khan on Wednesday.
Following his meeting with the premier, the Pakistan Tehreek-e-Insaf (PTI) MNA said that he is not the one who needs convincing. Instead, he said that he "convinces others and has convinced Prime Minister Imran Khan".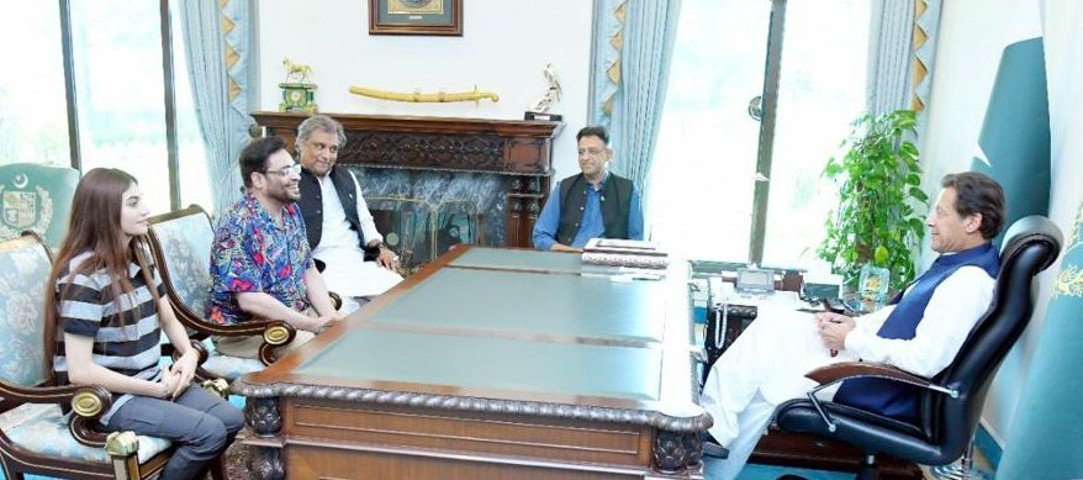 Speaking to the media after the meeting, Liaquat said that his friendship with PM Khan had never ended but he has not decided whom to vote on the no-trust motion against the prime minister by the opposition in the National Assembly. The motion was filed on March 8.
He said that PM Khan was hopeful that the motion will fail. "What was going to happen is not going to happen and what was not going to happen is going to happen," the PTI parliamentarian said when asked about the no-confidence motion.
Taking to Twitter, the renowned TV host said that the prime minister also congratulated him on his third marriage with 18-year-old Syeda Dania Aamir. He said that the prime minister asked his wife whether Liaquat takes care of her to which she replied: "He is very caring and takes care of you as well."
In another tweet, Aamir Liaquat wrote that he has convinced the premier on many things and the atmosphere of his meeting was very pleasant, adding that he couldn't keep track of time since "they were having such a good time with laughs and smiles".
Netizens, of course, took the mickey out of it
Earlier this month, the televangelist, while announcing parting ways with the ruling PTI in the "near future", had said that he had advised PM Imran not to panic (Ghabrana nahi hai). He further added that the prime minister's supporters are still supporting him despite his "worst behavior".
Liaquat said the current political situation was a game of nerves and prayed that may Allah Almighty make things better for Pakistan. "From now on our ways are separate. I will remember the reward you gave me for my loyalty," he said in a statement.
It may be recalled that Liaquat was angry over the recent visit of the premier to Karachi and not being invited to the events organized by the PTI. In October last year, he had also announced to resign from the national assembly.
Read More: How To Repeatedly Make Up After A Break Up – A Complete Guide By Aamir Liaquat
What do you think of this story? Let us know in the comments section below.