While almost all of us are familiar with Coke Studio and know the songs like the back of our hands by now, Nescafe Basement, a similar endeavor, is a little less well known. It merits more credit and publicity, however, for it celebrates and nurtures young talent, instead of picking up big names in the industry to produce music. The underground artists are picked from auditions, and are then mentored by Xulfi, the result of which is a series of songs that will leave you in awe.
Season 4 has began with a bang, and to show you exactly why you should be following Nescafe Basement, we've compiled a list of some of the best nescafe basement songs from the production;
1. Pee Jaon (Nescafe Basement Season 3)
2. Sab Bhula Kay (Season 2)
3. Nishaan (Season 3)
4. Do Pal (Season 3)
5. Tere Jiya Hor Disda (Season 4)
6. Awari (Season 1)
7. She's Got The Look (Season 3)
8. Love Me Again (Season 4)
9. Tu Mera Nahin (Season 4)
Nescafe Basement is making ripples internationally too. After Roxette, a Swedish pop-rock duo shared the cover of their song, She's Got The Look (performed in season 3), John Newman, singer of the original Love Me Again posted a fan-girl tweet to express his admiration for the all-girl band cover of his song, just two days after the song's release!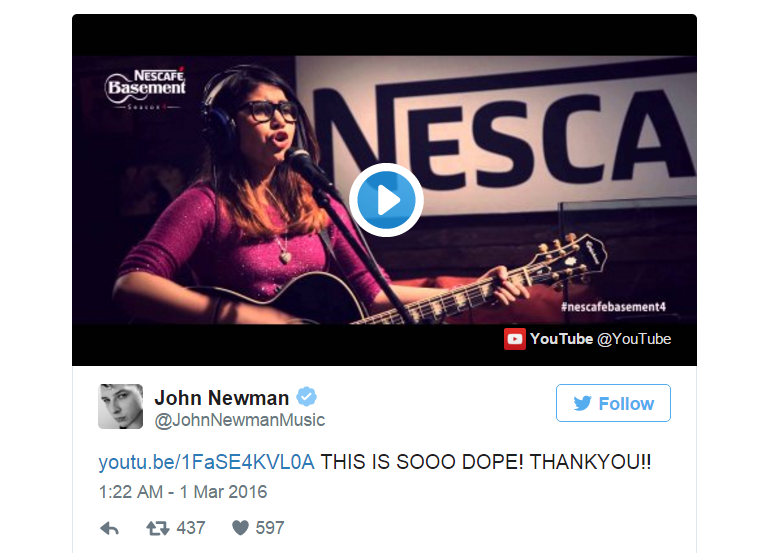 Source: twitter.com
Newman isn't the only one. The nescafe basement songs have taken the nation by storm. Not only is this a thriving testament of the powerhouse of musical talent that is Pakistan, but it also highlights the importance of such initiatives that unearth the talent that is present, and nurture it such that it receives international acclaim.
With such a blast for a start, we can't wait to see what the rest of the season brings to us!