The National Command and Operation Centre (NCOC) on Thursday announced that its committee of health experts approved two Chinese vaccines to be administered to children above 12 years from November 15.
The country has reportedly administered more than 5.5 million vaccines to students between 12 and 18 years old so far.
"Total students vaccinated so far exceeds 5.5 million," said NCOC chief Asad Umar. "GB leads the way with 68% and Punjab is second with 62%."
Pakistan has so far fully vaccinated more than 46 million people, while 76 million citizens have been partially inoculated. The total inoculations in the country have reportedly reached 116 million.
"Chinese vaccines Sinopharm and Sinovac have been approved by NCOC Health Expert Committee for administration to children above 12 years of age from 15 November onwards," stated the NCOC. "Now, these vaccines will also be available in addition to already approved Pfizer for children above 12 yrs."
The NCOC informed the forum during today's morning session that 1.7 million individuals were vaccinated on November 9. It is a record number of vaccinations in a single day.
A milestone of 50% of the eligible population of the country receiving at least one dose of the vaccine was appreciated by the forum. Moreover, Khyber Pakhtunkhwa became the second province after Punjab to vaccinate half of its eligible population. It commended the mass vaccination drive, especially the 'Reach Every Door' campaign, and the teams involved.
According to NCOC's daily stats, the country has reported 637 fresh coronavirus cases and nine deaths in the last 24 hours. Additionally, the total tally of COVID-19 cases has reached 1.27 million, while the death toll has bumped to 28,575.
Fifth wave of COVID-19 may hit Pakistan 
Dr. Faisal Sultan, Special Assistant to Prime Minister on Health, recently warned that a fifth COVID-19 wave may hit the country due to the "slow process of vaccination". People have stopped using face masks, he said, adding that this is dangerous.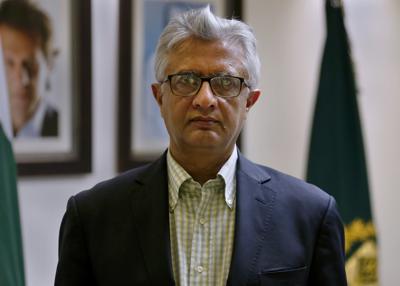 "The government has achieved vaccination targets to some extent, millions in the country still need to be vaccinated against coronavirus," he said.
Dr. Sultan warned that the fifth wave of coronavirus could hit Pakistan if the pace of vaccinations is not increased. The second dose is vital for protection against Covid, he pointed out, urging people to "get fully vaccinated."
The Special Assistant to Prime Minister on Health last month also stated that students must be fully vaccinated by Nov 30 and partially inoculated by Oct 31 to attend classes.
Have you checked out the updated COVID-19 vaccination guidelines for citizens below the age of 18?
What do you think of this story? Let us know in the comments section below.