A picture of former Prime Minister Nawaz Sharif at a pizza restaurant in London has gone viral following which Pakistanis have raised questions over the 'critical' nature of his health. Looks like he has put himself back in yet another pickle!
Sharif, 70, has been in London since November last year after the Lahore High Court (LHC) granted him one-time permission to go abroad for four weeks for treating heart disease and an immune system disorder. The three-time premier was sentenced to seven years in a corruption case.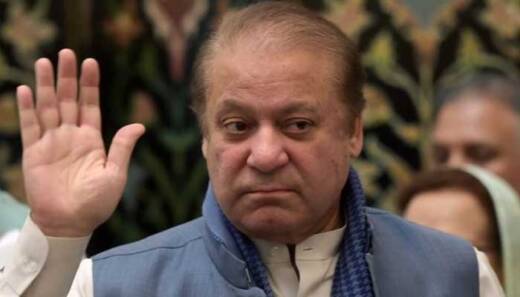 It is essential to mention that on December 23 last year, Sharif had sought an extension in his stay abroad on the expiry of the four-week period allowed by the court to go to London for medical treatment. With his application, Sharif attached his medical reports. However, the Punjab government, which could not decide on his application, sought fresh reports.
In the purported photo in question, Nawaz Sharif appears to be stable and sitting in a restaurant allegedly eating pizza in London. Here, take a look at it!
Pakistani Twitterati are not happy to see him on the loose
"A sharp slap in the face from the court, doctors and their guarantor. A self-proclaimed dying patient went to London for treatment from prison, toured, and reached the pizza franchise."
"If every proclaimed offender in Pakistan gets medical leave, they can also enjoy pizza."
"Ineligible for treatment of serious illness, runaway, eating pizza with illicit earnings…"
This is not the first time Sharif got spotted at a restaurant in London. Earlier, in a picture, he appeared to be stable and sitting in a restaurant with PML-N President Shahbaz Sharif and his son Hamza.
PTI's Fawad Chaudhary took a dig at the PML-N supremo while tweeting the purported photo.
"In London's intensive care unit, the treatment against plundering is underway and all patients present (there) are feeling better," he wrote.
The subject matter was also reportedly discussed at a meeting chaired by Prime Minister Imran Khan in Islamabad. As the picture went viral, the Buzdar administration swung into action and sought the latest reports about Sharif's health from his personal physician Adnan Khan.
However, PML-N chided the PTI leaders for doing politics over Sharif's health. More so, it clarified that doctors have advised him to go out for a change of environment.
Sharif had departed for London in state of the art air ambulance last year in November. That too, during his bail period of four weeks without the condition of submitting indemnity bonds. Given that he will have to face the courts on his return to Pakistan, looks like he is not coming back any time soon!
What do you think of this story? Let us know in the comments section below.