For the past year, Nawaz's imprisonment has been the point of disagreement between the government and the opposition. The demands for his NRO were raised which were consistently denied by the government. But recently he was given permission to leave the land for treatment abroad and in new developments, he will be leaving on Tuesday, says PML-N spokesperson Marriyum Aurangzeb.
According to the statement of the party's spokesperson issued today, on Tuesday morning an air ambulance will arrive to take Nawaz abroad. Lahore High Court (LHC) granted permission to the former premier of taking a four weeks medical treatment trip abroad. However, the extension of the duration of this trip will be based on medical reports.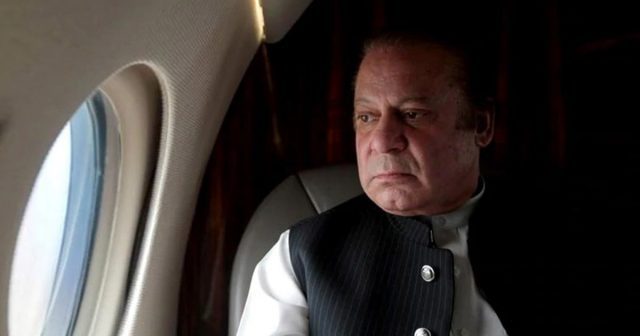 Marium Aurangzeb further added that the doctors after a detailed examination of the health of Nawaz had consulted one another to make him fit for traveling. She also stated that Nawaz is under the process of being given a high dose of steroids. This to balance his low platelet count to make it suitable for his travel. Moreover, some medication will also be given to him to bring his high blood sugar to a lower level, meanwhile resolving other medical concerns too.
Nawaz's Name Taken Off ECL
The court issued an order to the Federal government. The order was to take Nawaz's name off the Exit Control List (ECL) without any conditions, This was done against the resistance that the government was holding. The government had demanded Nawaz to submit an indemnity bond worth over Rs7.5 billion. It was to be granted with one-time permission to travel abroad for medical treatment. But the condition was challenged in LHC which ended in being taken up.
This order was announced on Saturday. It was done by a two-judge bench of the high court around 5:45 pm. After the marathon proceeding that was heard in the presence of Shahbaz Sharif and other leaders of PML-N at 12:15 pm.
Marium Aurangzeb has requested the nation to pray for the well-being of Nawaz on his journey abroad.
This morning, Dr. Adnan Khan, Nawaz's personal physician, spoke on the ordeal. He stated that the PML-N leader has a flight scheduled within 48 hours. The leaders were going to London once his health is assured to be safe for air travel and is clinically stabilized.
Former PM #NawazSharif is scheduled to travel abroad, to London-UK, for medical treatment within 48 hours once he's clinically stabilised, made travel-worthy & is safe for air travel.
He will make the journey in a fully equipped & medically staffed Air Ambulance; arriving soon.

— Dr. Adnan Khan (@Dr_Khan) November 17, 2019
All the PML-N leaders had been striving to get the decision in favor of Nawaz for quite a long time. So, after the high court's order was issued Shahbaz hailed it saying that the prayers of everyone had been granted.
Shahbaz Signs Undertaking for Nawaz Sharif
Nawaz's younger brother and party president, Shahbaz Sharif signed an undertaking. According to which he will ensure the return of Nawaz within the given duration or as guided by the doctors, whenever he's fit to return.
"I further undertake to provide/send the periodical medical report of the doctor duly notarized by the embassy to the registrar of this court," claimed the undertaking.
"I also undertake that if at any stage, the federal government has credible information that Mian Mohammad Nawaz Sharif is living abroad despite his fitness to travel, a representative from Pakistan's High Commission would have a right to meet with his physician(s) to verify or confirm about his health."
Shahbaz has informed that he will be traveling alongside his brother and for now. They will be traveling to London but will further travel to wherever the doctor advise. Maryam Nawaz, Sharif's daughter will, however, remain in the country.
On the contrary, Attorney General Anwar Mansoor Khan spoke on the issue as well. He stated that Nawaz's family has been given too much relief. Further stating that he had been given special treatment.