Yasir Hussain has a record of making controversial and improper statements. Yasir Hussain is yet again under the radar and this time he decided to ridicule the Dugdugi actor Nausheen Shah for coming to his wedding uninvited.
On many occasions, Hussain is seen mindlessly talking or giving his unsolicited opinions. He is always getting back at his haters with his witty sarcasm and attitude. However, this time things took a rather awkward turn, where Yasir Hussain talked about the uninvited guests at his wedding that included Nausheen Shah.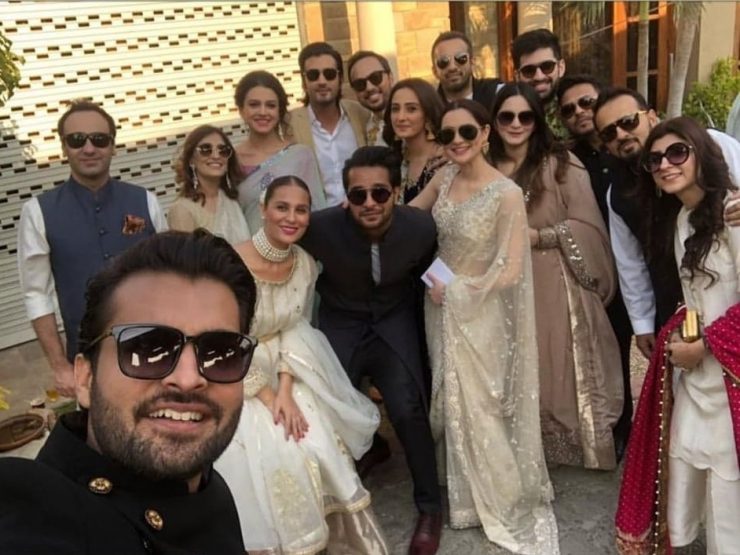 Known for his straightforward antics, taking it up several notches in a recent interview with Vasay Chaudhry, the actor revealed the name of one specific person that attended his wedding to Iqra Aziz uninvited.
While speaking to Chaudhry about his wedding guest list back in 2019, Hussain shared that while the couple had invited roughly 170 people, more than 200 showed up.
"I had decided that I'll call only those who are my friends and who live in the same city," said the Band Toh Baje Ga actor. He added the card being on social media meant that everybody was informed regardless.
When asked who the extra 30+ people who showed up uninvited were, Hussain revealed one name specifically. That too, from the showbiz industry: "Nausheen Shah," he said, cracking up right after.
Moving on, when the host asked if any other industry peer attended the wedding without an invite. To this, Hussain clarified that she was the only one, adding, "Buhat hansi arahi hai! [I feel like laughing!]." Talk about the awkwardness!
But oh boy, he did not stop there either. Upon the insistence of Chaudhry, the Lahore Se Aagey actor divulged more details about Shah's attendance. The host then asked whether he liked any of her Instagram posts from his wedding. Then Hussain revealed, "The funny part is, she got the most pictures clicked!"
Check out her pictures from the wedding
"Sharing some good old memories from a friends wedding with the cutest," the caption of her post read.
Right after brutally trolling her, Hussain made an effort to redeem himself by trying to change the topic. "Nausheen is a great girl and she does great work. Personally, I am a big fan of her style!" he said.
Here is the video
Well, just so brutal!
Earlier, Hussain landed in trouble when he was seen making fun of Hania Aamir's skin condition. So much so that Aamir schooled him taking to her Instagram.
What do you think of this story? Let us know in the comments section below.