Social media feed is filled with Naseem Shah and Azam Khan, why? One viral video spread throughout the internet and left everyone in anger mode.
It all started with a little fun that sparked negativity all over social media against Naseem Shah and fans couldn't avoid it without reacting to the act.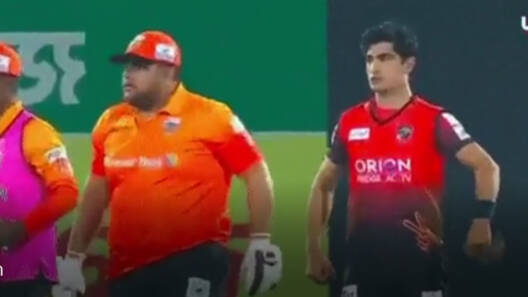 Naseem Shah has become the main center of attention for imitating Azam Khan's walking style and his body shape. His fans didn't like his fun act and slammed him for body shaming.
Naseem Shah And Azam Khan – Fans Divided
During the match between Khulna Tigers and Comilla Victorians on Tuesday, Shah was caught mocking Khan's walking style on camera.
Naseem Shah later tried to hug Azam Khan wicketkeeper-batter but the latter pushed him away. Soon the video went viral all over social media, fans didn't like what Naseem Shah did and slammed him for body shaming.
One user wrote, "Shameful to do it publically First you heated moment by words Then just to show publically you hugged him Until that it was ok but then your body shamed him by action behind him Those saying that it was a joke of two friends then he should have done in front of it."
Others wrote, "Naseem Shah mocking his country fellow Azam Khan isn't good even for fun sake. Meanwhile, Azam Khan makes 12 runs off 4 balls with 1 six & 1 four."
One user thought that it was the gentlemen's game, "body shaming that too on the field. Someone told me cricket is a gentlemen's game."
Azam Khan is proving his ability in front of the world with his bat, in the BPL he smashed his maiden t20 hundred and shocked the world.
What do you think of the story? Tell us in the comments section below.