Hamza Ali Abbasi and Naimal Khawar's wedding was the highlight recently. The beautiful couple tied the knot in an intimate and simple nikah ceremony, followed by a star-studded reception. The bride awed everyone as not only she is beautiful but chose to wear her mother's wedding dress bringing the old-school charm back.
However, there are always some who cannot bear the happiness of others and make everything and anything a target of their criticism. Lo and behold, their simple wedding was met with cynicism and opened an online debate.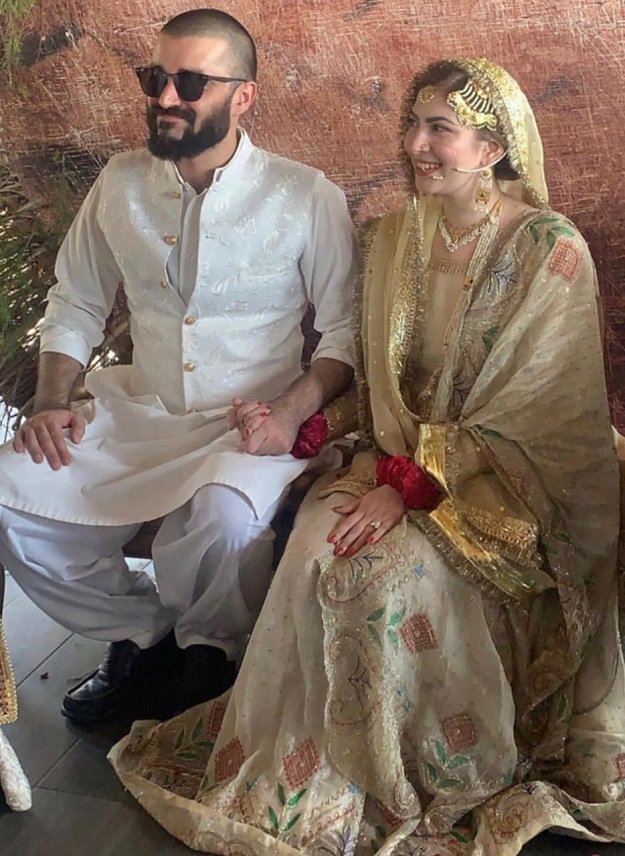 But what was quite comical was Hamza Ali Abbasi's long explanations about how his 2-year relationship with Naimal was strictly platonic. Let's face it, that was hard to buy. But hey, doesn't matter now as they are happily married. Now, Naimal Khawar released three pictures with a cheeky caption and trolls are convinced they tried to make a fool out of everyone with the whole platonic rant when they were in an intimate relationship.
Here's the main picture Naimal shared on her Instagram!
Her caption read, "Back when things were so "platonic"😛 Little did I know I was standing next to my future husband and the Love of my life♥️"
REALLY Naimal, REALLY? A platonic friend with absolutely no strings attached? This is the exact same response most of the people had after reading this. The trolls, however, couldn't stop themselves from stating the obvious and making a joke out of this.
No one's buying it!
Hey, Hamza could be the best friend in this platonic equation. Haha.

LOL! We need such friends too. Do they even exist though?

Sarcasm not found.

Someone tell them this is 2019 and it is okay to get to know the person you are interested in. Drop the platonic word, we know what went down. LOL.

It is possible for them to have a great friendship that led them to the realization of their great chemistry and understanding. However, these throwback pictures give a whole different vibe. We don't know why they are choosing to make a fool out of us still, now that they are married and it doesn't matter but hey, we wish them a lovely married journey ahead.
Have anything to add to this story? Let us know in the comment section below!