Nadir Ali apologizes for asking personal and insensitive questions in his recent podcast. Soon after the podcast was released netizens jumped into Wagon and criticized Nadir Ali for asking such a personal question.
However, Sunita Marshall awkwardly replied to his question with pure confidence and shared that no plan to convert to Islam in the near future.
A few days ago, Nadir Ali found himself in the hot boiling water when he asked Sunita Marshall about her plans for converting to Islam.
The impact was so powerful that Nadir Ali apologizes regarding the incident and shared he didn't mean to hurt anyone's feelings.
Nadir Ali Apologizes To Everyone
Taking to his Instagram where he made a public apology and shared that his intentions were not to hurt anyone's feelings. He stated that his curiosity led him to ask Sunita about her plans for conversion to Islam.
In his Instagram post, Nadir penned, "My intentions during the podcast with Sunita were not to hurt her or anyone's feelings at all. Out of curiosity, I asked her about her plans for conversion to Islam!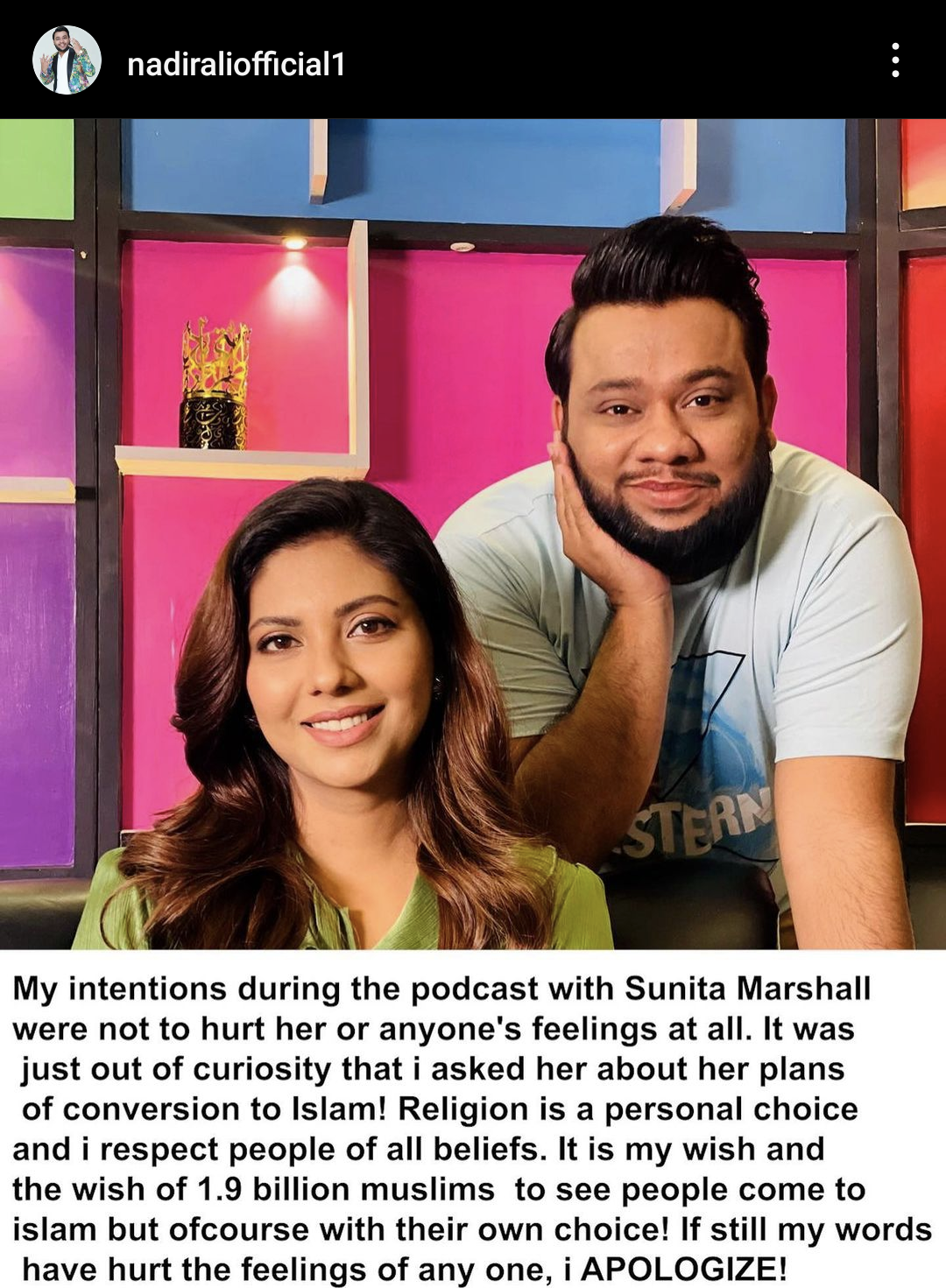 Religion is a personal choice and I respect people of all beliefs. It is my wish and the wish of 1.9 billion Muslims to see people come to Islam but of course with their own choice! If, still, my words have hurt the feelings of anyone, I apologize."
Before Nadir's apology post went viral, Sunita Marshall came in to stop her followers from harassing the interviewer.
"I would like to thank you all for supporting me. I will also request all of you to kindly not harass the interviewer anymore. Also, I would ask the interviewing fraternity not to ask such personal questions again in the future."
She even added that interviewers in the future must respect the guest and must keep professionalism, and a conscientious approach.
What do you think of the story? Tell us in the comments section below.