Pakistani television actress, model, producer, and television host, Nadia Khan, has made her mark in the Pakistani entertainment industry. Many fans rely on her to get to know the details of their favorite celebrities. However, the Nadia Khan Show recently shared the weight loss journey of her own daughter, Alizeh. It is bound to inspire you!
Khan's performances have always been appreciated and applauded by the audience. And her role as a mother is not any different. She and her daughter seem to share a special mother-daughter bond, and we are here for it!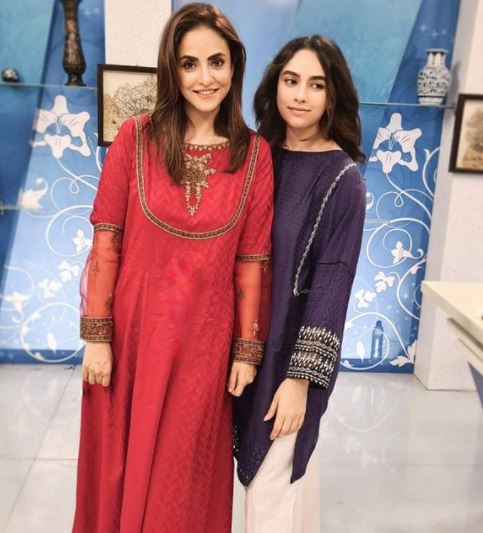 The popular host first appeared on television screens in 1995 as Farry in PTV's Bandhan. Since then she has been impressing her fans and followers. Especially as a host for the Nadia Khan Show, through which she garnered thousands of fans. More so, she also has her own YouTube channel by the name of Out Style where she talks about her own lifestyle and much more.
Recently, Nadia Khan went on to share the weight loss journey of her daughter Alizeh on her YouTube channel. Turns out that she successfully lost about 15 Kgs, and the morning show host and her daughter share how.
They reveal that reason behind Alizeh's weight gain was PCO's. Polycystic ovary syndrome (PCOS) is a common condition that affects how a woman's ovaries work. Thereby, by the age of 16, Alizeh weighed about 70 kgs.
The mother and sister duo share that she used to work out a lot in the gym with her mother. However, that did not help Alizeh. Khan reveals that controlling the diet was the only way out, and tells how it not only positively affected her body but also her health, skin, and lifestyle.
Watch both narrate the road to losing 15 Kgs
So inspiring, don't you think?
It has only been a month since Khan tied the knot with Wing Commander Faisal Mumtaz Rao. While everything was going just fine, out of nowhere, her husband's second ex-wife came out to reveal the alleged dark side of him. From threats to black magic, she went on to reveal his problematic, toxic, and dark side.
However, hours after the husband's second wife Lubna Farooq made such appalling claims, as expected, Khan issued a statement to reject them all. The twist in their story came out to be quite surreal. Nonetheless, fans were quite worried about their fave morning show host and showed their immense support for her.
What do you think of this story? Let us know in the comments section below.