Na Maloom Afraad seems to be one of the most promising movies ever made in Pakistan. It is based upon everyday life and it quite engaging. In recent years many exceptional Pakistani movies released, but all of them had hard-hitting storylines. Na Maloom Afraad is the sole Pakistani movie which is all set to release as an out and out entertainer.
The trailer eliminates all the doubts of it being a mindless flick like some of the Bollywood comedy movies. Na Maloom Afraad is an intelligently designed movie which is worth every penny spent.
Nabeel Qureshi, young Pakistani director has done a brilliant job in striking the right balance between smart film-making and monetary worthiness.
Actor Fahad Mustafa played the character of Farhan who worked at Karachi based IFU Life Insurance Company gets fired as he fails to sell any policies in a month. Mohsin Abbas Haider's character in Na Maloom Afraad is named as Moon. Moon hails from Punjab and aspires to get a job in Dubai, but instead he ends up moving to Karachi.
His family thinks that he is living in Dubai while he roams around in the streets of Karachi with an empty pocket. There is another character in Na Maloom Afraad, Shakeel Bhai which is played by the actor extraordinaire, Javed Shaikh.
Shakeel bhai is under severe societal pressure to get her younger sister (played by Urwa Hocane) married, but he fails to do so because of financial issues. Ultimately, the path of this set of three characters meet… what happens next… we will be able to explore in the cinemas, this Eid ul Azha.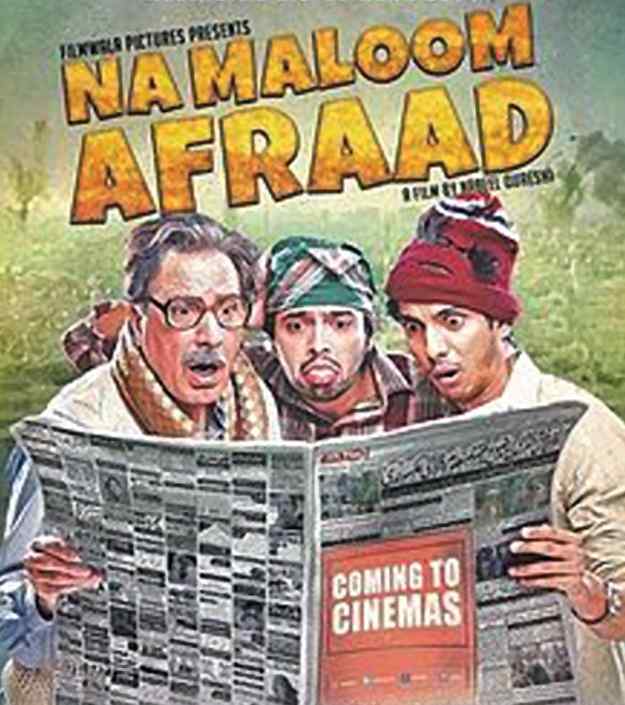 Though the storyline of Na Maloom Afraad is not 'one of its kind' but it is the humor factor and that subtle relatable social and political remarks in the script which makes it stand out from the rest. An instance of such includes the portrayal of Choree Ke Peechay Kia Hai (crime show) host.
The character is played by Paras Masroor (Popularly known for this project 'Shabbir Tou Dekhe Ga'). In another scene a groom-to-be (with a beard) offers a bottle of itar to a girl. Scenes like these in Na Maloom Afraad will surely make you laugh hard. They also show the comprehensiveness of the script and how well-planned the film is. Na Maloom Afraad truly reflects that the director very well understands the dynamics of Karachi, its people and culture.
One of the most commendable features is the pace of the script. Na Maloom Afraad is very well balanced; the one-liners are so punchy that you will desire for more. Na Maloom Afraad appears to be a total success, mainly because of the strength of its script and star cast.
The small part played Ali Rizvi as a tea restaurant owner and by the character Samuel played by Nayyar Ejaz exhibit that fine class acting has flown through the generations in Pakistan. This also makes it clear that Pakistani films can be no less than any other international movie, if they cast properly and plan the movie well.
All the three lead characters have seemingly played their parts really well, especially the performance of Haider apparently is above par and Urwa too has acted really well. As per the interviews and press releases, this is Urwa's best performance yet.
Fahad Mustafa apparently has switched smoothly from small screen to big screen. Javed Sheikh is certainly an excellent actor, let's see if he has elevated the level of Na Maloom Afraad with his performance or not.
On the flip side, the rumors are that Na Maloom Afraad is somewhat similar to Priyadrashan's Hera Pheri and there are some scenes in Na Maloom Afraad which are not just 'inspired' by it, but are actually rip-offs. People are even comparing the characters of the two movies, figuring out who play Sunil Shetty and who plays Akshay Kumar in Na Maloom Afraad. One could just wish that the director does not forget that Na Maloom Afraad is based in Karachi and not Mumbai while attempting to copy hit Bollywood scenes. Only time will tell if this 'copying acting' goes in the favor of Na Maloom Afraad or not.
As per the critics, the clearest example of Bollywood replication is the song in which while entering the shrine, the boy and the girl hold each other's hands. This is exactly similar to how it happens in every other Bollywood movie, especially in the ones which features the Muslim characters.
The character of Hina (Played by Kubra Khan) and Billi (Played by Mehwish Hayat) seem irrelevant. Kubra Khan played an angelic figure with a very serious tone. The critics are of the opinion that the character Hina does not blend well with the theme of Na Maloom Afraad. Same is the case with the character played by Mehwish Hayad, Billi. The purpose of her character in the plot is perplexing and shouldn't have been restricted to the item number only.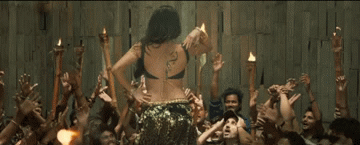 Having said that, on the whole, Na Maloom Afraad seems to be an intelligently crafted movie, which should be worth the time and money spent. As per the officials, Na Maloom Afraad conveys the purpose of the movie with each and every scene in it. May it be the most talked about item number to the one-liners. Na Maloom Afraad talks about the most sensitive issues in the most hilarious ways.
With other exceptional and promising movies like (Operation 021, Bang Bang) releasing on the same date, how well Na Maloom Afraad will perform the box office, only time will determine.
However the producer, Fizza Ali Meerza said in a statement:
"We are confident that we have made a quality product, as we believe Na Maloom Afraad is a completely original film with a great storyline. The rest is up to you (the audience) to ensure that Pakistani films such as NMA and Operation 021 do well at the box office and ensure that Eid ul Azha becomes a Pakistani film weekend."