Myriam Adnani, Dutch youth of Moroccan origin, arrived at the end of her dream. Today, she is the first European pilot Muslim.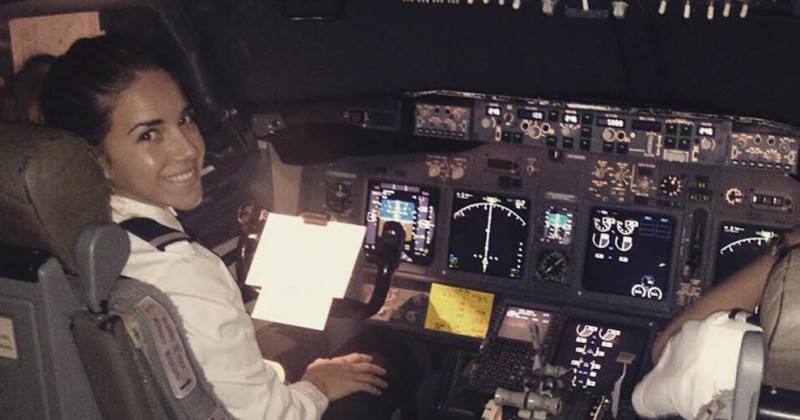 At just 23 years, Myriam Adnani took off. Born in the Netherlands in 1991, of Moroccan origin, she always had a head start: "I got my degree at the age of 17, and I passed the pilot school."
This pilot school, the CAE Oxford Aviation NLS Global Academy in Amsterdam, is one of the most recognized in the world of commercial aviation. She was almost in advance in its success: "I was passing all the tests, I managed to finally announce that I was too young to bear this heavy responsibility." And for good reason. To become an airline pilot in a commercial flight, it must be at least 18 years old.
Taking her troubles patiently, young Myriam decides to resume her studies and start a bachelor in law. Once this is done, she returns to knock on the door of the prestigious school of Amsterdam, where it is accepted.
For nearly two years, the young woman from Oujda alternates between theoretical courses in Hoofddorp (northwest of the Netherlands) and practical teaching with courses in the US and Belgium. While keeping in mind her greatest dream: to become an airline pilot. A dream that may seem unattainable for women, but not for her. "The pilot application business practice, which attracts fewer women. I still believe that there are not enough women in this trade, they are a minority. "
According to recent studies, there are about 5% of women airline pilots (6% in the Royal Air Morocco). Although statistics vary from one company to another, it is very little. But the young driver remains optimistic:
I think that, nowadays, there is almost no difference to certain occupations that were previously done by men. Things are moving.
"Extremely happy and blessed"
On March 14, his many Facebook followers have enjoyed happiness Myriam Adnani. A photo of her in a cockpit, all smiles, which would not even have needed to legend. "After almost two years, I'm finally ready to become a pilot for commercial flights. I feel extremely happy and blessed! "She has written, enthusiastic possible.
Proud of her work, she nevertheless not wish the world focuses on religious affiliation, "I think it's a great honor that my fellow citizens are proud of what I achieved. However, I would have liked that we take into consideration my results and my performance. I got a score of 92/100 in theory! ". However, the young graduate keeps feet on the ground. He must now find an employer, for her dream to be fully accomplished. With such a journey and such a will, it will not take long to take off.