A daughter is another name for pure love. Daughters are, indeed, the most precious gift from the Almighty Allah to all parents. The status of a daughter in Islam is extremely important and unique. Cricketer Shahid Afridi says daughters are a gift from Allah.
Muslims should also remember that the family of the Holy Prophet Muhammad (PBUH) is from his beloved daughter Sayyidah Fatima Zahra (Radi Allahu Ta'ala Anha).
Mashallah, Pakistani cricket Shahid Afridi is a father of not one, or two but five daughters. Time and again the former cricketer always shares with his fans how lucky he is to have his daughters in his life.
On Friday, Boom Boom took to Twitter again and shares a heartfelt note to his youngest daughter Arwa. Afridi said he feels blessed to see Arwa growing.
Afridi became father of Arwa earlier this year. Former Pakistan all-rounder shared this news with his fans and well-wishers on Twitter.
Sharing the news with his fans, Afridi tweeted: "The Almighty's infinite blessings & mercy are upon me…already having been granted 4 wonderful daughters I have now been blessed with a 5th, Alhamdulillah."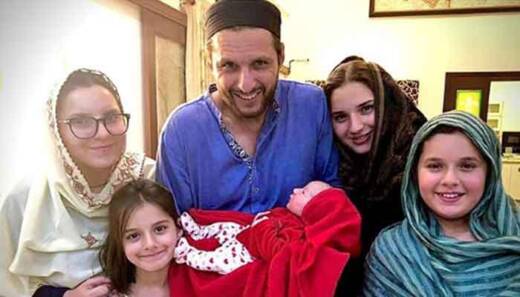 Afridi's four daughters are named Aqsa, Ansha, Ajwa, and Asmara. The star all-rounder at that time also urged his fans to suggest a name, starting with 'A', for his fifth daughter.
And, then Lala picked Arwa for the youngest member of his beautiful family and he is simply in love with her. Indeed Daughters are a true gift for Shahid Afridi
In July, there were rumors that Lala was marrying one of his daughters Ansha with cricketer Babar Azam. However, he denied the rumors as fake.
Lala celebrates 20th wedding anniversary
Afridi recently took to social media and shared a heartfelt message for his wife on their 20th anniversary. Lala also shared two pictures from their anniversary celebrations and wrote, "Today marks 20 years of marital bliss."
His wife, Nadia also, while responding to him, playfully teased him, "With the passage of time, one has to remind you of things."
Lala is very close to his family. His wife has never come in public and neither Afridi ever shares much about his personal life. However, recently, Afridi opened up about his love life and how he got married to his wife Nadia.
The couple shares good chemistry and understands each other. He also praised his wife for always being supportive and keeping him down to earth. We love you Lala!
What do you think of this story? Let us know in the comments section below.