A photo quickly went viral over social media, where a husband reportedly stood for 6 hours straight on a flight so his wife could sleep cozily bundled on the three seats. This sparked a heated debate on Twitter with two strong arguments dividing the Twitteratis.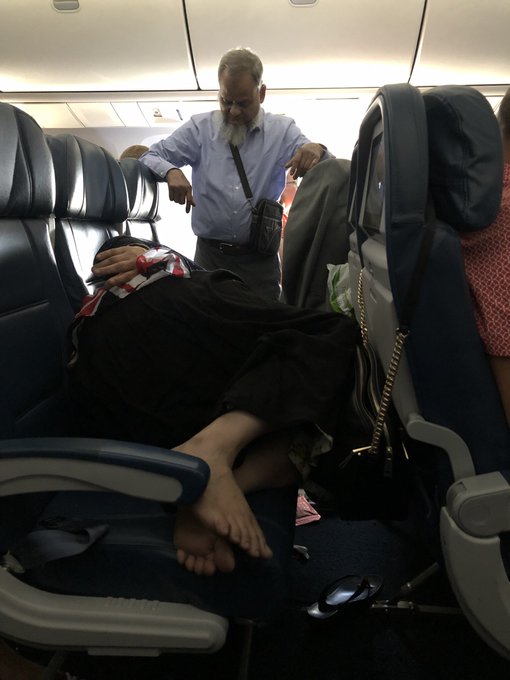 We often tease the notion of what real love is and this picture is the personification of a loving and caring husband. After all, love demands one to be selfless and to keep their partner as their topmost priority. So far, this man is setting the example of just that. However, not everyone would agree to the same definition of the 'ideal display of love' and might have an entirely different perspective.
Rest assured, people had some strong opinions over this picture where the man lovingly stares at his wife, patiently waiting for her to wake up. The debate resulted in two main arguments where one side adored the loving husband for his devotion to his wife while the others heavily criticized the wife to be selfish and unkind, taking over the entire space leaving her husband standing for so many hours.
The 'people of the web' are arguing over this situation and there are some interesting opinions.
This viral photo was shared by the man that was assumably on the same flight sitting in the same lane as the couple and captioned it "Now THAT is love.", which was the triggering factor leading to heated discussions on what love really is.
Some are saying that she could have rested her head over his lap instead of making him stand.
She couldn't just lie across HIM?! I won't judge their marriage. My hubs is the kind of man who would do this for me, but I am not the kind of wife to ask this of him! pic.twitter.com/fswsyKi52e

— Twin & her Hubs! (@CLE_SHONUFF) September 6, 2019
Someone corrected the man saying that the whole idea that there is suffering in love for another needs to be let go of.
We need to let go of this idea of love that involves suffering.

— Brand _Afrika (@brand_afrika) September 6, 2019
Many accused the wife of being selfish and the man to be weak enough to make himself suffer.
That's not love, his wife is selfish and he is weak

— katlego_ (@katlego_Jay) September 6, 2019
That's quite an intense and thin window of possibilities for the wife; allowing this situation under one circumstance only.
Unless she's sick and this is the only rest position within the circumstance that will make her stay alive. If not, its total bullshit!!!

— Teka® (@tekatwittn) September 6, 2019
The ULTIMATE expression of love but needs minor tweaking.
That is the ultimate love, but with a little travel experience…you know to just lay in his lap and then he can lay his head on your hips. There's a formula lol.

— Elle Woods (@LaurenEffie) September 6, 2019
True that! Spoken like a real Muslim.
Mashallah! 👍🏿👏🏿👏🏿👏🏿
The brother was like "i stand up for Salatul Taraweeh (late night prayers) for 30 nights during the month of Ramadan, 6 hours between flights is NOTHING!" 😂😂😂👍🏿

— Mohamed (@MHus66) September 6, 2019
'Forced' is an assumption and the wife should be given benefit of the doubt. The husband could have 'forced' his wife to sleep comfortably out of his pure love and affection.
The wife sprawled herself on THREE seats and forced her husband to stand for 6 hours. Looking at her like "This is what I signed up for…!?

— The Second Son and 12 others (@QuincyWandera) September 6, 2019
Again, the wife is being targeted for being inconsiderate and exploiting a good man.
Not love but exploitation. She could have just rested her head on his lap. Very inconsiderate.

— Ujinga Kenya! (@NasaRevolution) September 6, 2019
If you come down to the reason which must have caused the man to stand for so long letting his wife sleep, there would be countless. But one thing that does take to pull this off is devotion, love, selflessness, and respect for your partner. One can always assume the best and take whatever they can from it. This world is already under a grip of negativity and indifference.
Also Read: This Pakistani Guy Missed His Wife So Much He Had The Plane Landed As Soon As It Took Off!
Have anything to add to the story? Comment below!