The pop culture continues to influence us in incredible ways. Remember how mainstream it was to capture photos and then spotting paranormal activities or so-called ghosts and demonic existences in your photos? Before this prank was debunked, people actually believed in the paranormal things that were claimed to have been spotted in pictures.
Just a few days ago, a couple of viral images have been surfacing all over social media. A group of friends were having a good time at Murree Hills and captured a few group photos. One of the pictures includes a ghost-like spirit standing behind with a wicked smile and abnormally glistening eyes. Trust me, it was not the camera's red-eye effect as those eyes were very different from all the rest that can be seen. It went viral in no time and people suspected that a ghost was lingering near when these lads took photos.
Here are the photos that gave a nightmare to many, many people!
"We group of friends went to Murree together. We were having a walk through Murree hills at 2 or 3 am at night and this happened about 4 days ago. All of us were together. One friend asked me to take a group photo of us. I took it with flash because there was low lighting.

Read Also: Winter Vacations In Pakistan
"We looked around and there was no one around. I took the picture and we all headed back. When I went through my pictures again I was shocked to see a person standing right behind one of my friends.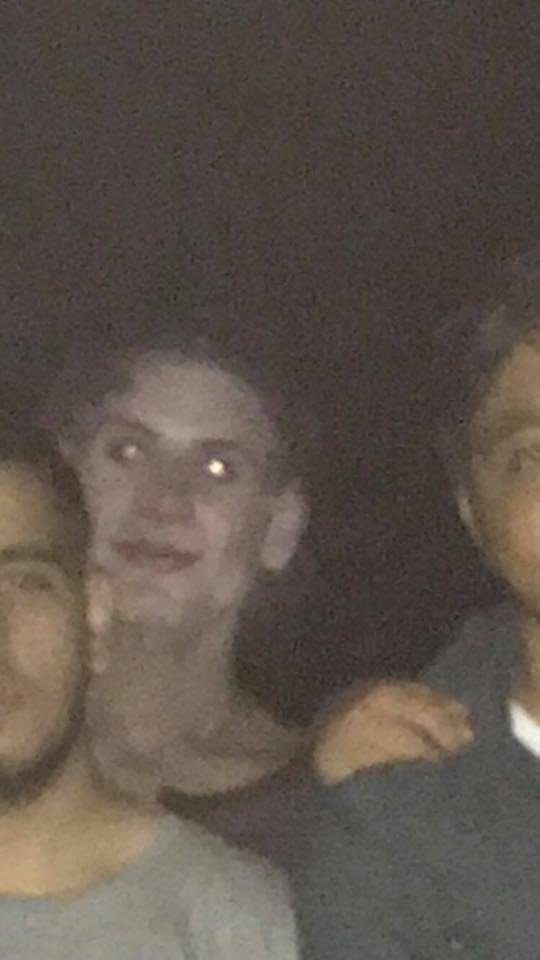 "He had a pale white face and if you close in on his legs you can see it look as if it not of a human. None of us knew the person 3rd from the left."
To be honest, it does look creepy af. Look at the way it's – I don't even know what to call – smiling to the camera. Looks like, this thing knew that it would wet everyone's pants after seeing these photos. Maybe they pulled a prank on all of us? Maybe it's one of their friends? Maybe, just maybe?
Some people on Twitter suggest it's a Russian ghost and it frequently appears!
Follow this thread…
Bruv did these lot just capture a Jinn on camera? ???? pic.twitter.com/NjqZ3OCzm5

— asad (@AsadImran123) July 8, 2017
Bare in mind that the Jinn isn't visible to the human eye, however this was taken with a camera which makes it even creepier

— asad (@AsadImran123) July 8, 2017
Muree is known for jinns ?

— asad (@AsadImran123) July 8, 2017
WHAAAAAAAAAAAAAT
apparently it's the ghost of some Russian travellers theirs multiple photos of him with diff groups weird af

— yo wcw's, mcm (@Nmnzbr) July 8, 2017
Or maybe it's someone we know!
Well, the alternate theory is that this thing is none other than a viral social media sensation we all know about. It does look like him, no?
AND YES, YOU GUESSED IT RIGHT! IT'S WORTH A MENTION THAT IT COULD BE NASIR KHAN JANNNN.
This guy might just be sick and tired of introducing himself as, "Hi guys, I am Nasir khan jan" or something, so he may have decided to play with us all this way. That's one way to look at it, no?
We want to believe that it's not what these guys suggest it is because if it's something paranormal, no way on earth I am ever visiting that place. What do you guys think about it?