Pakistan is filled with personalities who get caught up in controversies due to various reasons. Among such personalities, religious cleric Mufti Abdul Qavi is infamously famous. Every now and then, he lands himself into controversies that Pakistanis don't approve of. Mufti Qavi is again in the news as his dance video with a Foreigner Chinese woman has gone viral on social media.
In the video, the religious cleric can be seen enjoying a good time with the woman.
In the past as well, several amateur videos featuring the cleric sometimes with showbiz stars and internet celebs have gone viral on social media for all the wrong reasons.
Twitterati react on Mufti Qavi's new dance video
Mufti Qavi's dance with the Foreigner woman went viral on social media. Many Twitter users found the video to be hilarious. However, others were angry with the immoral behavior of the cleric.
One of the twitter users was in full praise for Mufti Qavi's dancing skills.
Another user says Mufti sahab rocks.
Meanwhile, many users were unhappy with Mufti Qavi and demanded action against him.
Mufti remains in the headlines for bizarre reasons
A few years earlier, Mufti Qavi was suspended over his scandal with Qandeel Baloch. The one-day meeting with Qandeel had cost Mufti Qavi a lot more than just his respect and hold as a religious scholar. According to Qandeel, Mufti Qavi had asked her to meet him in the hotel room. She also made a claim that claiming Mufti sahab wanted to 'marry' her.
Earlier this year, back Hareem Shah's selfie with Mufti Qavi went viral on social media. This did cause people to comment how the religious cleric is fond of selfies with celebrities.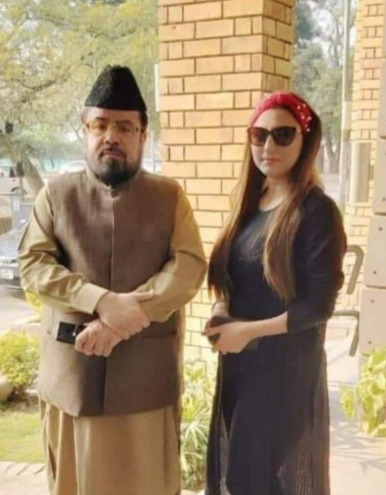 After a few months, however, Hareem Shah had accused Mufti Qavi of killing Qandeel. It happened when both the personalities were giving an interview together.
The controvercial cleric Mufti Qavi once also claimed that 'alcohol' is halal.
Last year, Mufti Qavi was seen in another video showering money on a female singer. Surely, not an islamic way!
It is indeed unfortunate to see a religious scholar getting involved in various activities on a regular basis. Being a public figure, Mufti Qavi should recognize that he is creating a bad example for the youth.
What do you think of this story? Let us know in the comments section below!